Patagonia: A vast, stunning region shared by Argentina and Chile. First-timers spend around 4 days on the Argentine side, starting from El Calafate. Glaciers, mountains, lakes, and grasslands make it a paradise for nature lovers and adventurers.
Following my inspection trip, I'm excited to share my tips for maximizing your stay in Argentine Patagonia. I'll detail the places I visited and provide insights to help you make the most of this incredible region. This article will provide you with all the essential information and our tried and tested itinerary recommendation.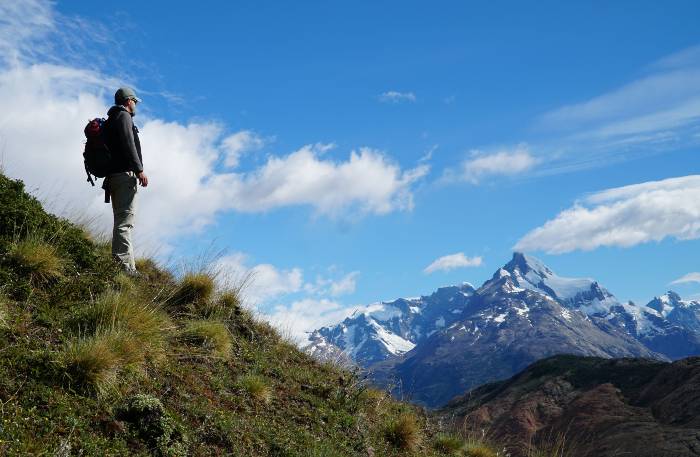 An overview of our suggested itinerary
Day 1: Fly from Buenos Aires to El Calafate
Day 2: Take a day trip to Estancia Cristina
Day 3: Experience Perito Moreno on a mini-trekking day trip
Day 4: Fly back to Buenos Aires and return home OR continue on to Puerto Natales, Chile
How to get to Argentine Patagonia
To get to Patagonia, we suggest flying to El Calafate from Buenos Aires (around 3.5 hour flight), a bustling tourist hot spot that serves as a perfect base for exploring Los Glaciares National Park.
In El Calafate, you'll find a range of bars, shops, and restaurants catering to travelers. Don't miss the opportunity to try the famous Patagonian lamb at La Tablita. It's a culinary delight you won't want to pass up.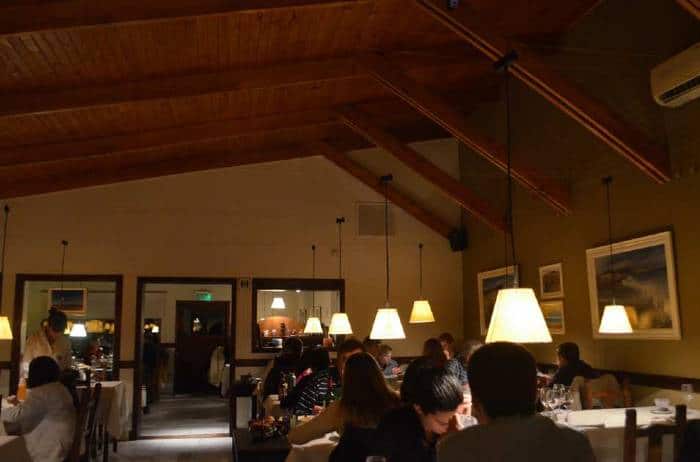 The must-see gems of Argentine Patagonia
The icy surface covers 30% of Los Glaciares National Park, where 47 glaciers originate. The two must-see glaciers are:
the Upsala Glacier (see the green circle with number # 3 in our map above)
the Perito Moreno Glacier (see green circle number # 2 in our map above)
The most famous one is Perito Moreno, with a length of 30 km. However, the largest glacier is Upsala, measuring 50 km in length and almost 10 km in width.
Perito Moreno is the more accessible, and renowned for its dramatic calving, making it a popular tourist destination. Upsala Glacier, with its remote location and pristine environment, provides a more exclusive and serene experience, perfect for those seeking a deeper connection with nature in a less crowded setting. Each glacier has its unique charm and allure, making them both worth visiting for anyone exploring the wonders of Patagonia.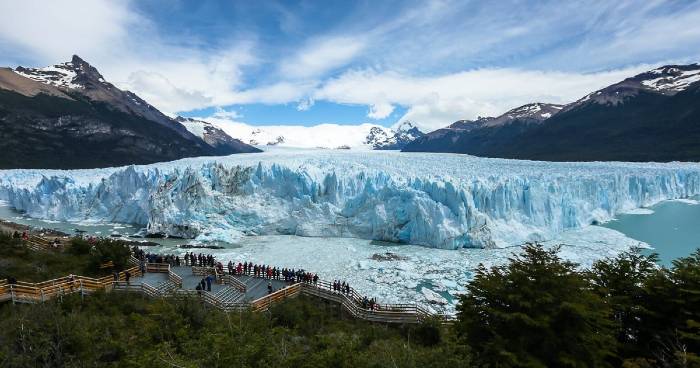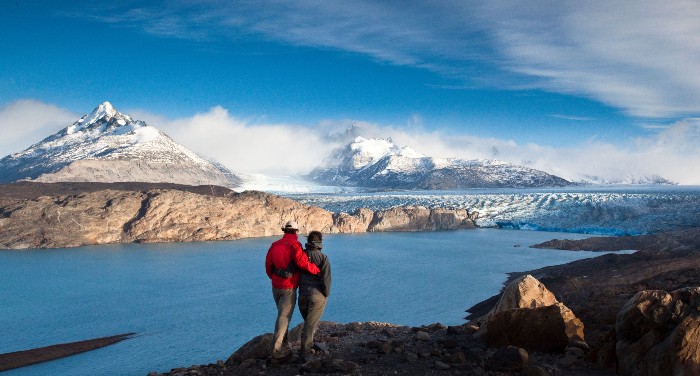 Our tried and tested itinerary recommendation
To embrace the breathtaking beauty of Argentina Patagonia's awe-inspiring landscapes, we recommend dedicating at least 4 days there. Given the vast distances to be covered, it's important to consider that the day of your arrival and departure will primarily be allocated to travel. Hence, we suggest focusing on two day trips to the majestic glaciers of Argentine Patagonia.
Day Trip 1: Estancia Cristina: Here, you can bask in the tranquility of the surroundings and enjoy a privileged view of the majestic Upsala Glacier, while also learning about the region's fascinating geological history.
Day Trip 2: Perito Moreno Glacier: Experience this glacier through a thrilling mini-trekking experience. Walking across the glacier offers a once-in-a-lifetime opportunity that many can only dream of.
Estancia Cristina – the perfect introduction
Visiting Estancia Cristina was an unforgettable experience for me. Its remote location near Glacier Upsala offered a rare opportunity to witness nature's majesty without tourist crowds (that you encounter when visiting Perito Moreno Glacier). The serene wilderness provided a much-needed escape from modern life.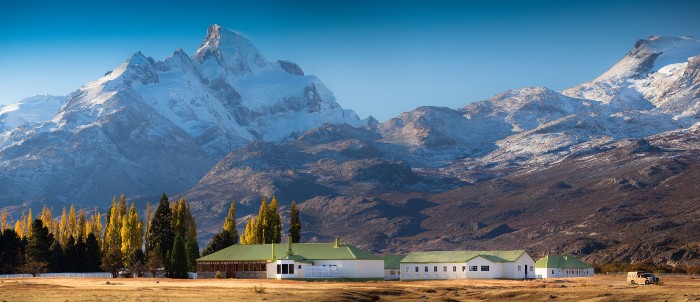 With 20 rooms available, you have the option to stay for a few days or you can opt for a day trip. There are three options available for booking your day trip:
the Classic Tour
the Discovery tour
the Trekking tour
The Classic Tour includes a morning activity such as hiking to stunning waterfalls or horseback riding, followed by lunch at the estancia and an afternoon visit to the on-site museum.
The Discovery Tour involves a short hike to the Upsala viewpoint, along with the classic tour itinerary.
On our visit, we opted for the Trekking Tour, which offers a more challenging adventure, involving a 14km (8.7 miles) hike with a provided boxed lunch.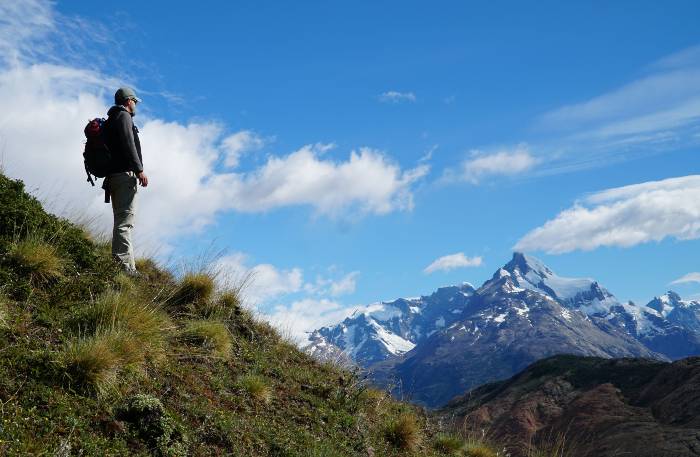 A day trip to Estancia Cristina begins with an early morning pick-up at your hotel in El Calafate. After a scenic 1-hour drive to the port, you'll board the Estancia Cristina boat, treating you to breathtaking views of the sunrise over Lago Argentino. During the 2-hour boat ride, you'll be captivated by the stunning scenery, including vibrant blue icebergs and close encounters with the Upsala glacier. The boat offers spacious seating areas, clean restrooms, and the option to climb to the roof for even better views of the snow-capped mountains. Hot drinks and croissants are served, so don't worry if you missed breakfast!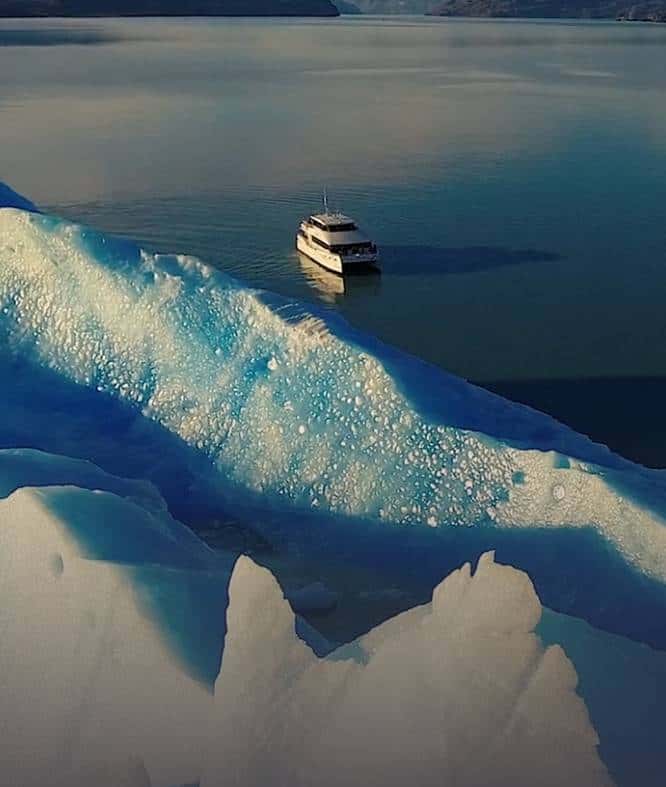 Upon arrival at the estancia, you'll embark on a 1-hour drive in a 4x4 jeep up the mountain, accompanied by discovery program participants. At the mountaintop, you'll have the chance to borrow trekking poles and use a convenient dry toilet before embarking on a 20-30 minute uphill walk to a breathtaking viewpoint showcasing the Upsala glacier in all its glory.
After bidding farewell to the discovery travelers, the real adventure kicks off with a 14km (8.7 miles) hike through the awe-inspiring mountains, guided by an expert who shares intriguing insights about the fossils you'll encounter along the way.
The hike is mostly downhill and after approximately 1.5 hours, a well-deserved break allows you to savor your delicious boxed lunch amidst the refreshing mountain air. Throughout the 4.5-hour hike, countless photo opportunities present themselves, capturing the ever-changing landscape as you emerge from the fossil canyon and witness the captivating transformation with each kilometer you cover.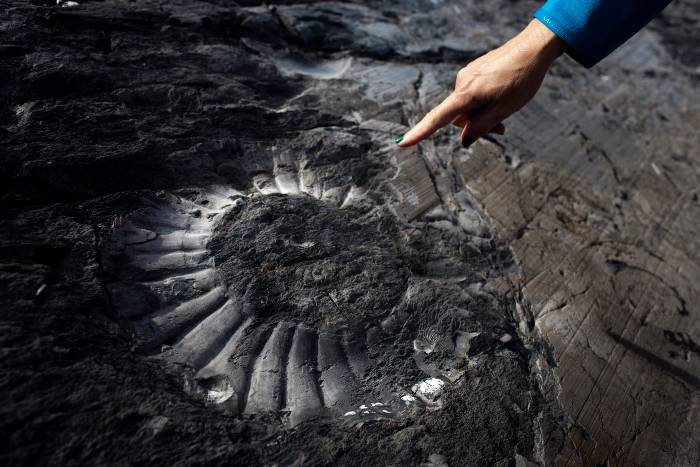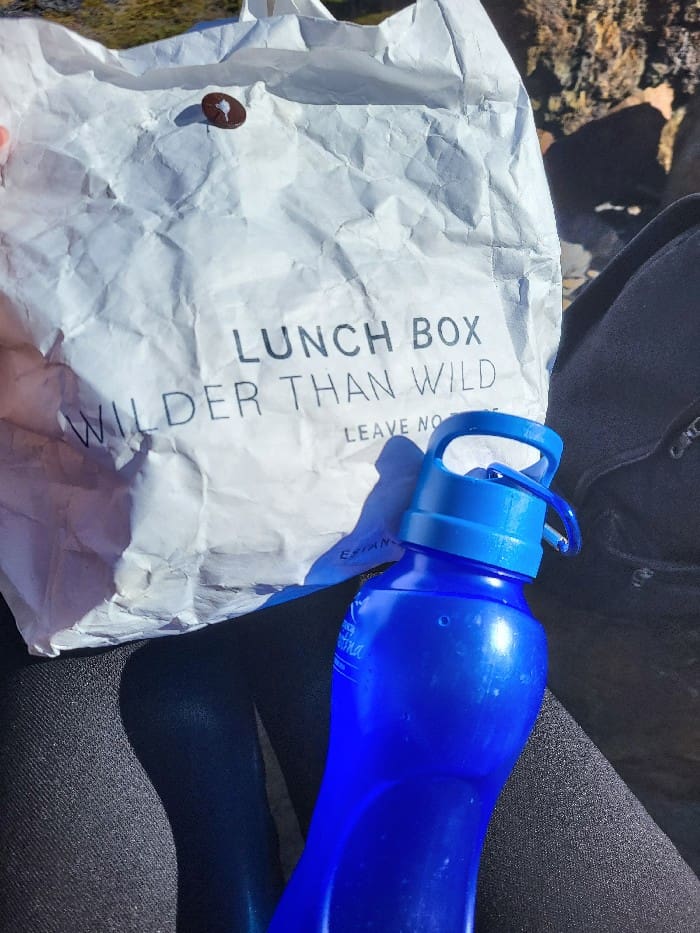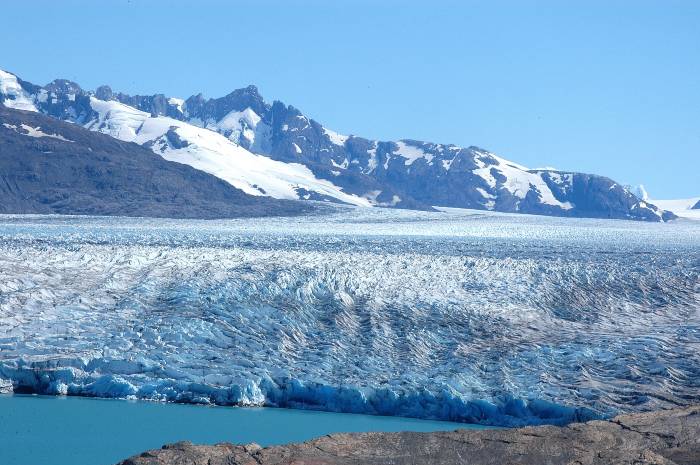 Once you reach the estancia, you'll have the opportunity to use the bathrooms and enjoy a refreshing drink before making your way back to the boat by car. The boat ride back lasts approximately 2 hours, and once again, you'll be treated to hot drinks and delicious croissants served on board. Upon arrival at the port, you will be picked up and dropped off at your hotel in El Calafate.
Perito Moreno – getting up close and personal
After gaining a comprehensive overview of the Upsala Glacier and developing an understanding of the geological landscape of Argentine Patagonia, it's time to experience the awe-inspiring Perito Moreno Glacier up close and personal. We recommend taking a shared tour of the glacier. Given the considerable driving time involved, opting for a shared bus tour contributes to reducing CO2 emissions, allowing you to make a positive impact on the environment while enjoying your excursion.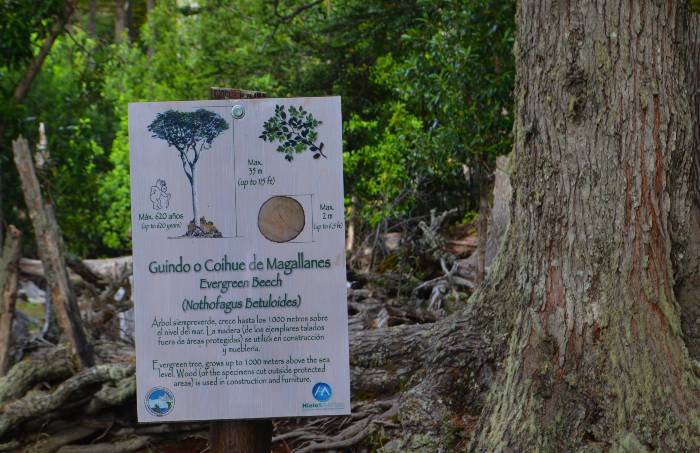 Upon arrival at the Perito Moreno visitor center, you'll have time to explore the wooden walkways, offering fantastic viewpoints of the glacier. If you're lucky, you may even witness the mesmerizing sight and sound of massive ice chunks breaking off and crashing into the lake. This part of the excursion allows you to admire the glacier independently, without a guide.
However, if you wish to delve deeper into the fascinating world of Perito Moreno, consider visiting the Glaciarium near El Calafate. They offer a free shuttle bus from certain points in the city and even have an ice bar where you can enjoy a unique icy experience while learning more about glaciers and why Perito Moreno is so special.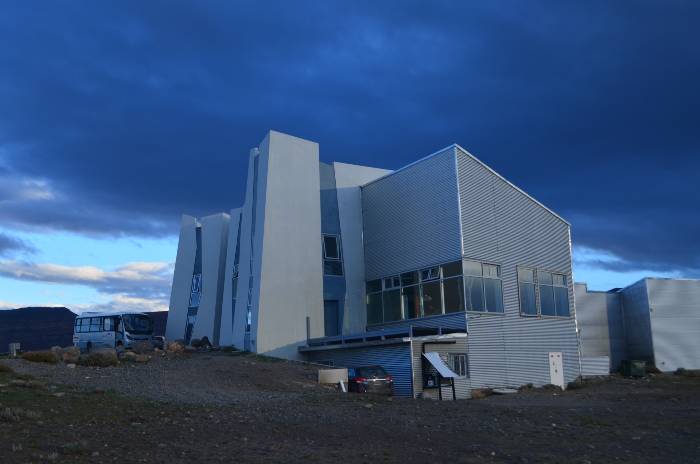 Mini Trek Perito Moreno Glacier
After enjoying your packed lunch with an incredible view, it's time for the true adventure of the day to begin. Unlike most tours that only allow you to admire the glacier from afar, during this experience, you will have the unique opportunity to hike directly on the glacier itself.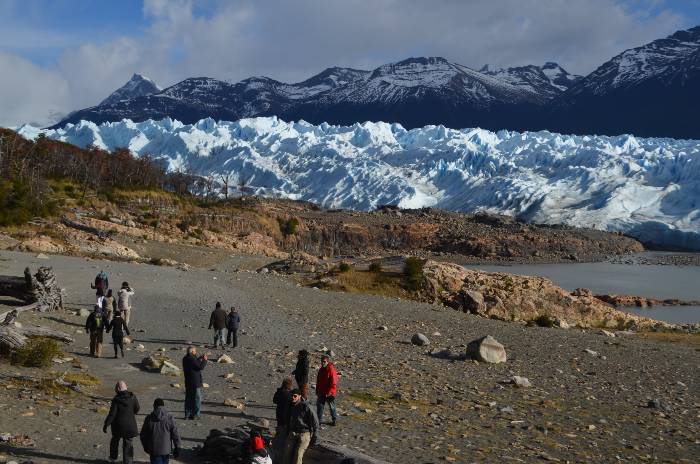 After a short sail across the shore, you'll meet your guides for the mini-trek and embark on a scenic walk along a picturesque beach. You'll then gear up with crampons to trek across the glacier. After this unforgettable experience, you'll board the boat again and head back to shore, where you'll have some time to soak in the views before returning to your hotel.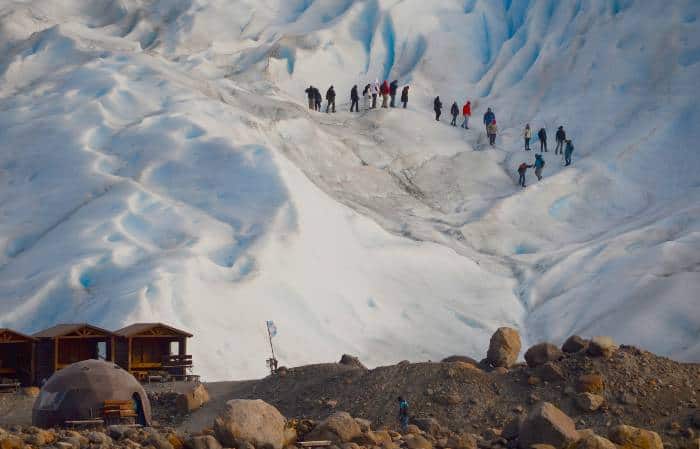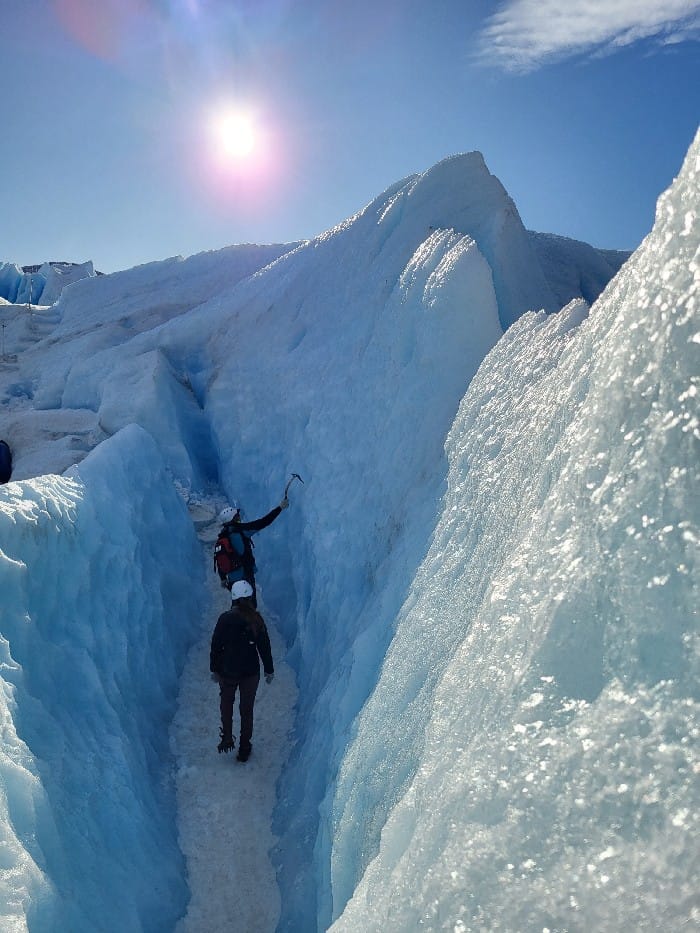 Where to stay in El Calafate
There are several hotels available in El Calafate suitable for a wide range of preferences and budgets. Here are some of our favorites:
Best time to visit
We recommend planning your trip to Argentina Patagonia between November and February, which aligns with the summer season. The temperature during summer is between a high of around 18oC (64.4oF) and a low of 4oC (39.2oF). Additionally, September-October and March-April, which fall within the shoulder season, can also be good options to consider. During these months, the weather is generally mild, although it's worth noting that you may encounter unpredictable changes in weather throughout the day, experiencing all four seasons. Another advantage of visiting during the shoulder season is that rates tend to be more affordable. It's important to be aware that between May and August, the winter season, many hotels and restaurants may be closed, so it's best to avoid planning your visit during that period.
Extension to Torres del Paine (Chile)
If you want more of Patagonia, extending your trip to include the beautiful Torres del Paine National Park in Chile is an excellent choice.
While private transfers are available from El Calafate to accommodations in Torres del Paine
A more affordable and eco-friendly option, we recommend taking the 5-hour bus ride to Puerto Natales. The bus is clean and comfortable and even has a toilet onboard.
From Puerto Natales, numerous excursions are available to explore Torres del Paine. You can opt for a full-day excursion, including a hike to the Grey Glacier (although this is typically more expensive than trekking the Perito Moreno Glacier, as it is usually done privately).
Alternatively, you can choose to stay in a lodge within the national park, immersing yourself in pristine nature and secluded landscapes. The lodges can be quite expensive, so if you're seeking a more budget-friendly approach, staying in Puerto Natales is a great alternative.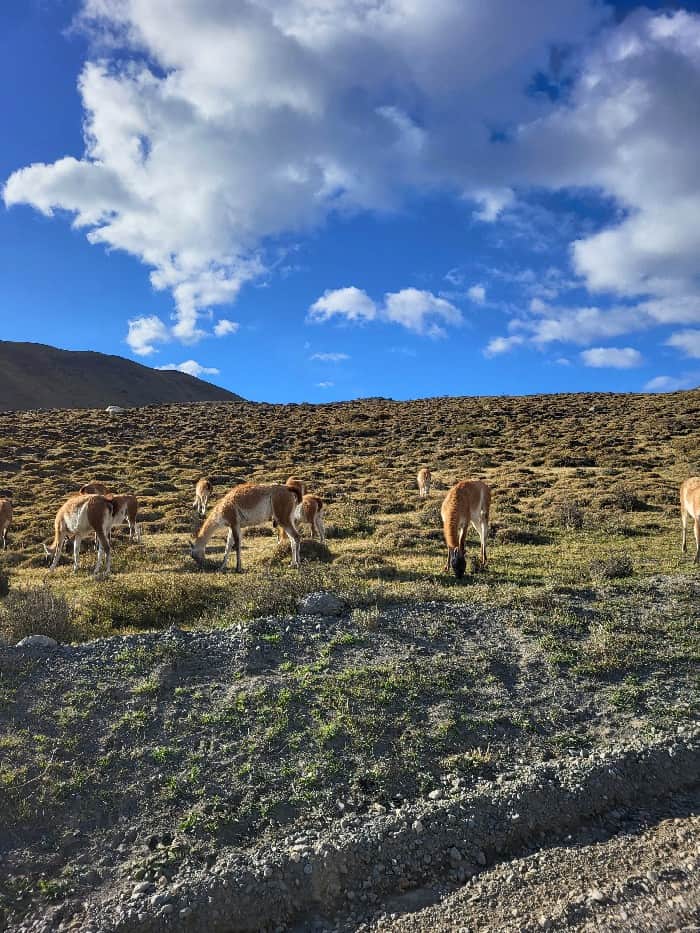 After your stay in Puerto Natales, you can fly to Santiago, the bustling capital of Chile. We recommend spending a few days there and exploring the surrounding vineyards as well as the portside town of Valparaiso before making your way back home.
Our insider tips
Bring a small and lightweight backpack for your lunchbox and other essentials during the excursions (you will need to carry it yourself).
Say yes when your guide at Estancia Cristina offers you to borrow some trekking poles – they helped us a lot during the steep downhill portions of the hike.
Protect yourself from the sun with sunscreen and sunglasses.
Dress in layers, including a wind/waterproof jacket, as temperatures in Patagonia can fluctuate throughout the day.
Gloves are an absolute must! You often need to have your hands out of your pockets to balance yourself. The glacier ice can be razor sharp, and gloves will protect you in case you slip.
During the hike at Estancia Cristina, there are no toilets. We recommend bringing some tissues in case you need to use 'nature's facilities' 😉 Our guide had some toilet paper in her backpack but bring your own just in case.