Travelers who have already experienced the captivating highlights of Argentina, such as Iguazu and Patagonia, often find themselves irresistibly drawn to the Mendoza wine region to unwind before heading home
Mendoza's main allure lies in savoring its celebrated red wines, particularly the iconic Malbec. This region alone accounts for almost two-thirds of Argentina's total wine output. Notably, it also proudly hosts vineyards that rank among the world's top 50. Has your curiosity been piqued?
Drawing from my visit, here are seven key tips to help you plan your trip effectively.
Pick your Mendoza sub-region
What distinguishes Mendoza from renowned counterparts like Napa Valley in the US or Casablanca in Chile?
The highest peaks of the Andes are found in Mendoza: with 6,961m (22,832 ft), Aconcagua is the highest peak in America. Shielded by the Andes from Pacific humidity and distanced from the Atlantic, Mendoza's climate is optimal for vine growth.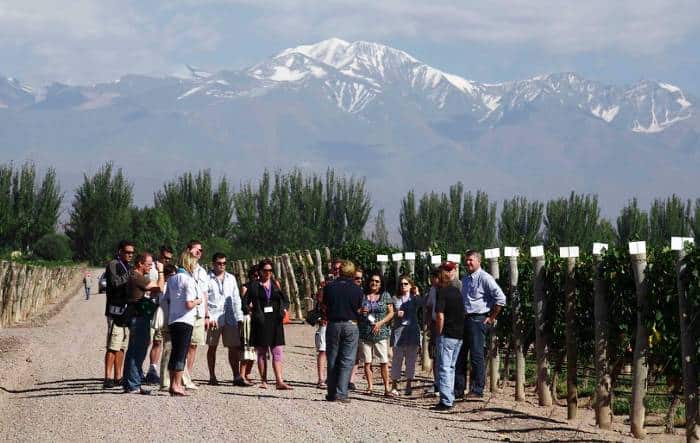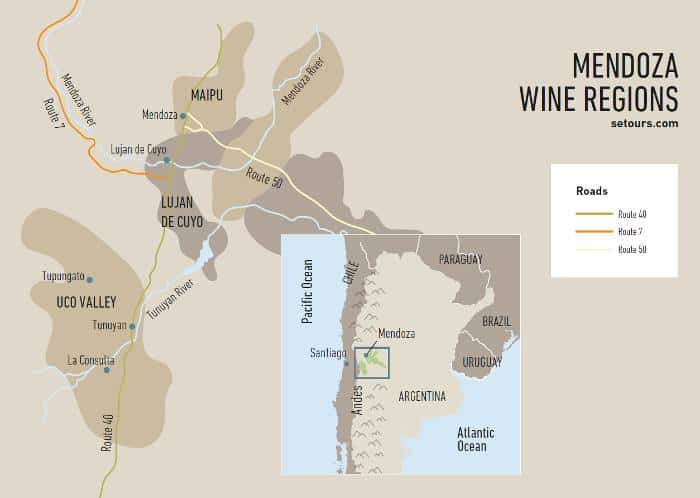 As the vineyards ascend to greater heights, they receive an amplified dose of UV rays, resulting in grapes that exhibit richer color and flavor. Temperatures drop at higher elevations, which safeguards the grapes' acidity. The combination of high altitude and calcium carbonate-rich soils produces wines that are both intense and fresh.
Across Mendoza's varied sub-regions, vineyard altitudes can span from around 650 -1300m (2132 - 4265 ft).
Outlined below are Mendoza's wine regions, offering you the opportunity to select the ones that most closely align with your personal preferences.
Maipu
This is the most historic and warmest sub-wine region and is just south of Mendoza city. Here, wines take on a full-bodied character, characterized by elevated alcohol content, vibrant fruity notes, and assertive tannins.
Bodega El Enemigo: This is the personal project of Alejandro Vigil and Adrianna Catena, managing director of Bodega Catena Zapata. Alejandro Vigil has been Chief Winemaker of Bodega Catena Zapata since 2002, receiving the first 100-point score awarded to a South American wine by Robert Parker's The Wine Advocate and the highest rating ever given to a pure Cabernet Franc. He also holds the first 100-point score for an Argentine Chardonnay from James Suckling. This vineyard secured the 10th position in the 2023 world's best vineyards ranking.
Casa Vigil The restaurant's name at Bodega El Enemigo goes beyond offering a mere gastronomic experience; it presents a fusion of art and produce sourced from its very own garden and local providers, crafting a truly distinctive concept. Not only featured on the 50 Best Discovery list, but it's also making waves as one of the restaurants under the Michelin guide's radar in Mendoza.
Altitude ranges from 650 to 1000m (2132 - 3280ft)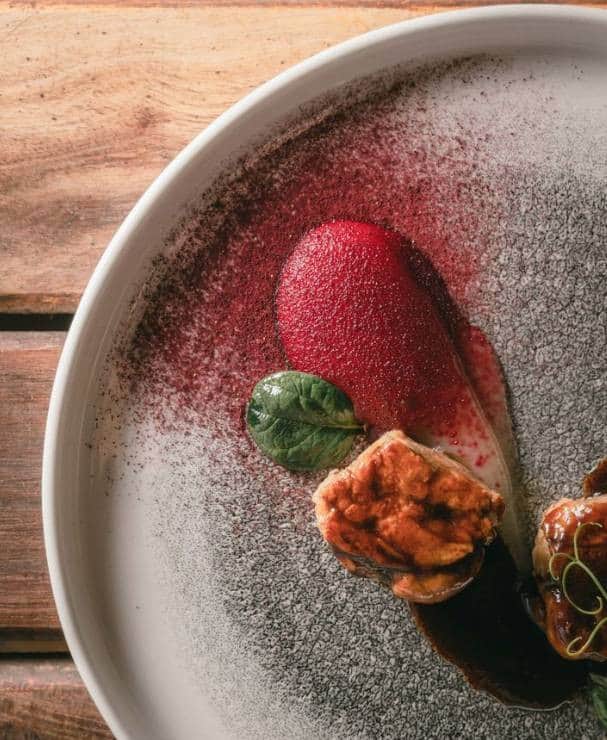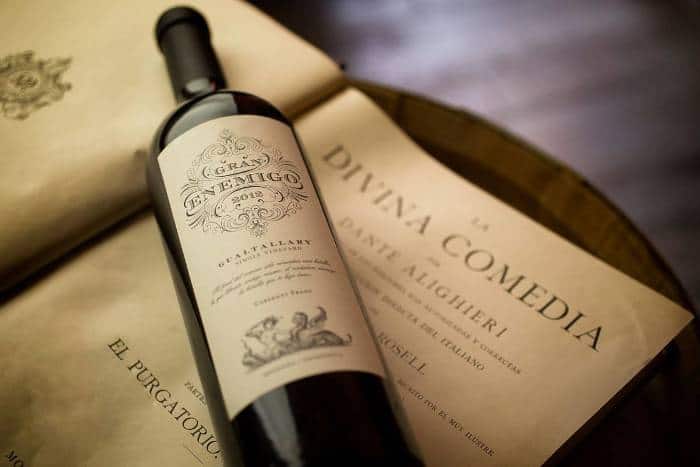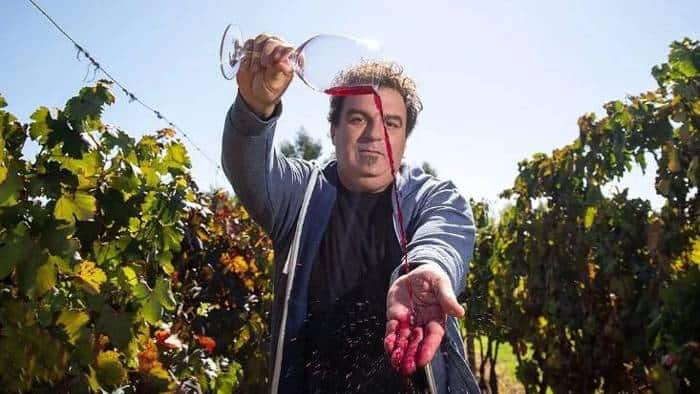 Lujan de Cuyo
Situated at the heart of the Mendoza province, Lujan stands adorned with a plethora of cutting-edge vineyards, with select ones even securing positions among the world's top 50 vineyards. Alongside this, the region boasts an array of the area's most enchanting boutique hotels, adding a touch of glamour to its allure.
Altitude ranges from 900 to 1300m (2952- 4265ft)
We have to mention:
Bodega Catena Zapata: Founded in 1902, this vineyard secured the title of the world's finest in 2023. Yet, this prestigious recognition is only one of the many accolades that have adorned this winery under the visionary leadership of Nicolas Catena. He challenged seemingly adverse conditions to cultivate vines, resurrected the Malbec grape, and propelled high-quality Argentine wines onto the international stage. Today, his daughter Dr. Adrianna Catena, as the fourth generation, carries forward this legacy. Listen to an inspiring life anecdote that Nicolas shared with his daughter.
What I failed to notice initially was the remarkable saga of the Catena family's resilience in their pursuit of crafting exceptional premium wines; their journey was far from easy. You can find their inspiring story in this article (look for the section 'Take A Risk')
Angélica Cocina Maestra Nestled within the Mayan-inspired pyramid-shaped Catena Zapata winery, this wine-centric restaurant emerged in February 2023. It presents an exceptional 5-course paired lunch experience, serving as the pinnacle following your wine tasting at Catena Zapata. With a limited capacity for only 78 guests, early reservations are advised to secure your spot.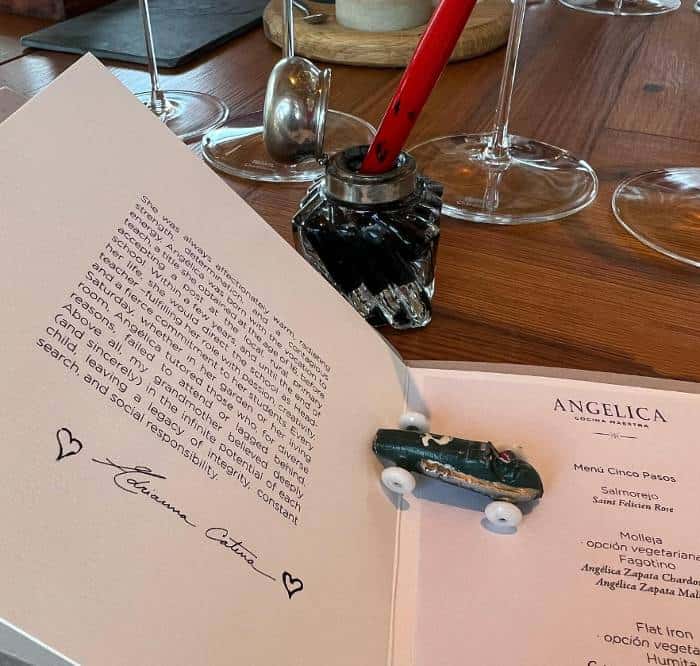 Bodega Norton: With its origins dating back to 1895, this winery's captivating history weaves together an English engineer, an Austrian crystal artisan, and a pioneering Argentine vintner. Given my Austrian background, a visit to Norton was a must during my journey. My curiosity led me to their white wine offerings, where, under the guidance of the award-winning winemaker David Boromi, they crafted a limited edition of 'Grüner Veltliner'— a beloved varietal in Austria. Listed in the 'World's Best Vineyards Explore'.
La Vid restaurant offers a truly gastronomic experience with wine pairing.
Uco Valley
This area is Mendoza's newest spot for growing grapes, known for making wines that are elegant and can age well. Nestled at the base of the snowcapped Andes, the valley boasts the most enchanting vistas in the entire Mendoza province, adorned with azure lakes and undulating vineyards.
This region has enticed producers hailing from around the globe.
One of them is the Dutch Mijndert Pon, behind Salentein, considered a pioneer of premium winemaking in the Uco Valley. Bodega Salentein achieved the 9th spot among the 50 Best World's Vineyards in 2023.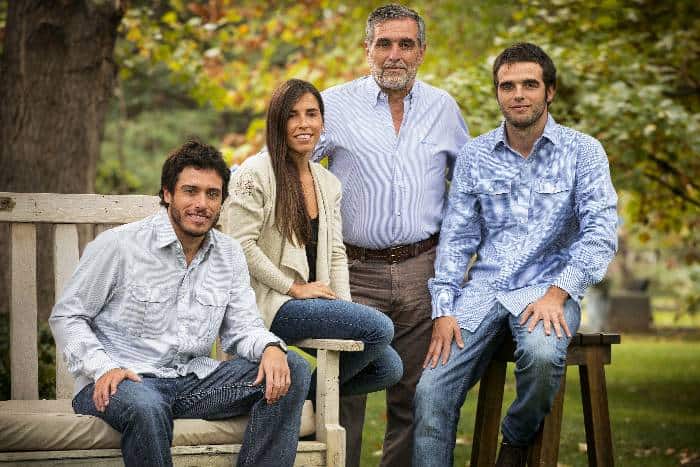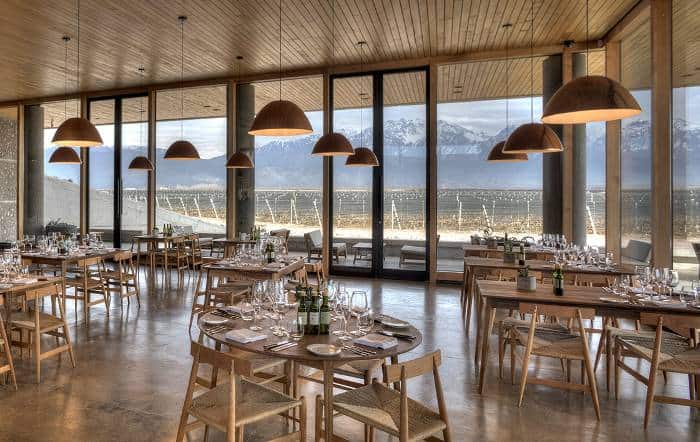 Within the Zuccardi estate, 'Piedra Infinita Cocina' restaurant presents a 4-course paired lunch that marries exceptional wine and gastronomy with awe-inspiring vistas of the snow-cloaked Andes. The Sebastian Zuccardi orchestrates gourmet gatherings that showcase the pinnacle of Latin American wine and cuisine, featuring luminaries such as Gastón Acurio (Astrid & Gaston), Micha Tusumura (Maido), and Gabriel Oggero (Crizia) (watch the video below).
Altitude ranges from 650 to 1700m (2132- 5577ft)
Our hotel picks to unwind in Uco Valley
If you've got at least three nights to spend in Mendoza and you're looking to unwind in the peaceful mountain environment while enjoying great wines and food, the Uco Valley (2-hour drive from Mendoza) is your perfect pick. it's a good idea to split your stay between two different hotels. Below are some pictures of the Casa de Uco, where I spent one night.
Casa de Uco Wine Resort
Each of its 7 rooms and 9 suites feature panoramic vistas of the breathtaking natural landscape. At Casa de Uco contemporary design harmoniously intertwines with sophisticated wine production and a farm-to-table ethos. The spa treatments incorporate potent antioxidants and revitalizing elements sourced from the nearby mountains and vineyards, adding an extra layer of rejuvenation to the experience.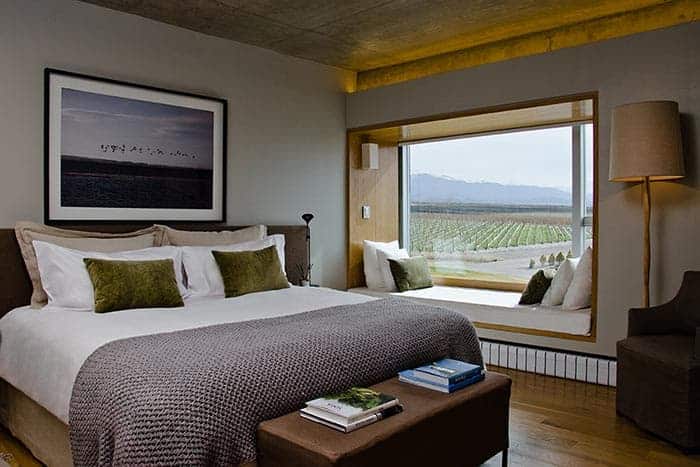 The Vines & Spa
The other option I inspected was The Vines & Spa. Surrounded by lush vineyards and nestled at the base of snow-capped Andes mountains this boutique property has only 22 very stylish and spacious villas and is at the same time a culinary destination (due to Mallmann's flagship restaurant 'Siete Fuegos'). Considered one of the most acclaimed chefs in South America Mallmann's cuisine showcases Argentina's famous beef and serves inspired regional cuisine using seven different open-flame cooking techniques.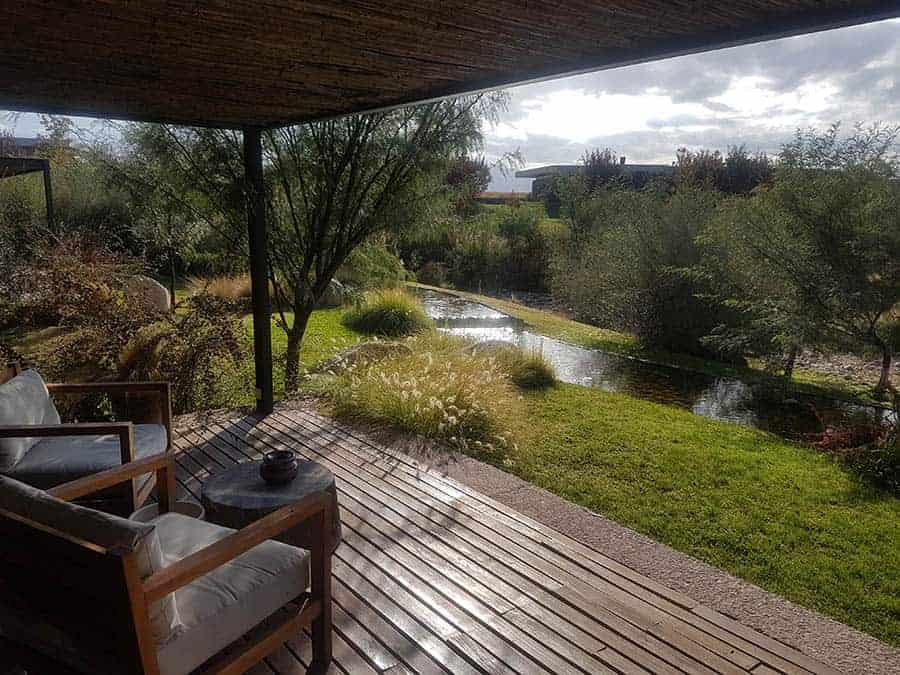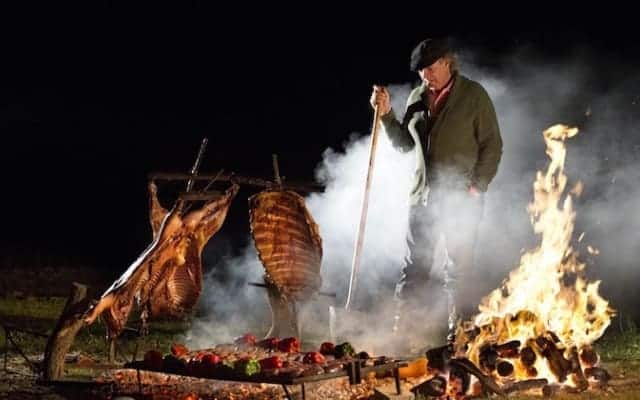 Eager to catch a glimpse of the Siete Fuegos Experience? Take a peek at this video 😉
Explore the diverse wine sorts of Mendoza
A new wave of young local winemakers in Mendoza views premium Malbec as a launchpad for their innovations, leveraging the region's intricate micro-climates and diversity. While exploring Mendoza, don't miss the chance to experience a spectrum of varietals, including exceptional white and sparkling wines.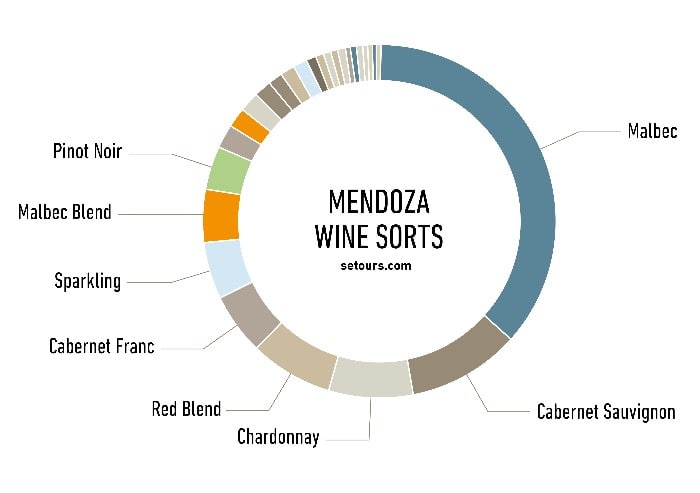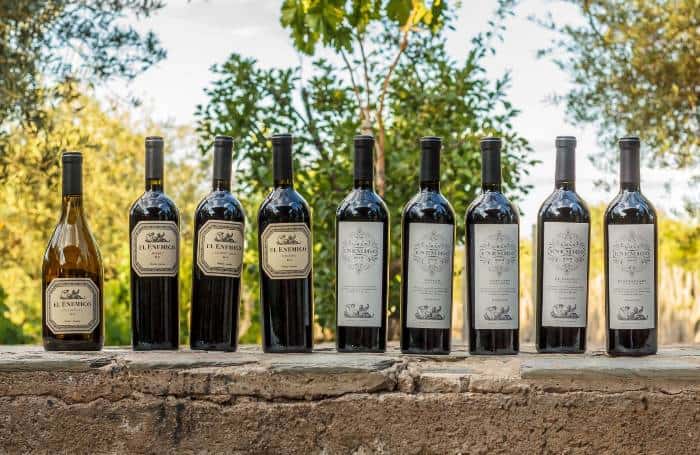 Try the 'classic' of Mendoza's local cuisine
Stews ('carne a la olla') made from various types of meat such as goat, lamb, and beef are prepared, but there are also dishes based on trout for vegetarians.
'Empanadas mendocinas' are traditional Argentinean baked pastries filled with beef, onions, paprika, hot pepper powder, cumin, and oregano
Grilled meat ('asado') the most typical food of Argentina, and Mendoza is no exception, is prepared on an outdoor grill (like the one above you watched in 'Siete Fuegos'. The key to a good barbecue is to cook it slowly, so that the meat feels soft and tender.
Humita a culinary heritage of pre-Colombian civilizations. It's fresh maize pounded to a paste, wrapped in a fresh maize husk, and slowly steamed or boiled in a pot of water.
Here's a suggestion if you find yourself with some time to explore Mendoza city: discover delightful and skillfully reimagined versions of traditional Mendoza cuisine:
Casa Vigil described above under the Maipu section. Make sure to make a reservation ahead, as this is a very popular gastronomic option. Make sure to make a reservation ahead, as this is a very popular gastronomic option
Azafran: stands as a South American resto-bar that showcases Argentinean cuisine, placing a strong emphasis on utilizing local ingredients and featuring an extensive wine list
Find Time for A Hike
While most international travelers visit Mendoza for its world-famous wines, it is also one of the best regions for hikes of all difficulties. The Andean mountain range is within close proximity and is easy to reach, so set aside one day, at least, to take advantage of this beauty and explore one of the many available routes. The Aconcagua, America's highest mountain, can often be seen during the hikes and provides a very special scenic memory.
Therefore hikes and bike tours come highly recommended and are great experiences to add to your journey.
Don't Rent A Car
I aimed to extensively explore the Mendoza wine region, and renting a car for flexibility and efficiency seemed ideal. Lujan de Cuyo was a mere 35-45 minutes from Mendoza city, and Uco Valley took around 1.5-2 hours. Renting a pre-booked car at the airport went smoothly. Yet, traveling solo restricted my chance to sample the region's various wines, a pleasure I would have indulged in if not driving.
What is the best time to visit Mendoza?
Given its location, Mendoza experiences extreme temperatures, with very hot summers and very cold winters.
Summer (January to March)
The average temperature remains above 30°C, and there are exceptional days when it reaches over 40°C. This time of year is also the most humid and rainy, with sudden storms. Summer is packed with events. Among the most important is the 'Fiesta de la Vendimia' (Harvest Festival), which takes place during the last week of February.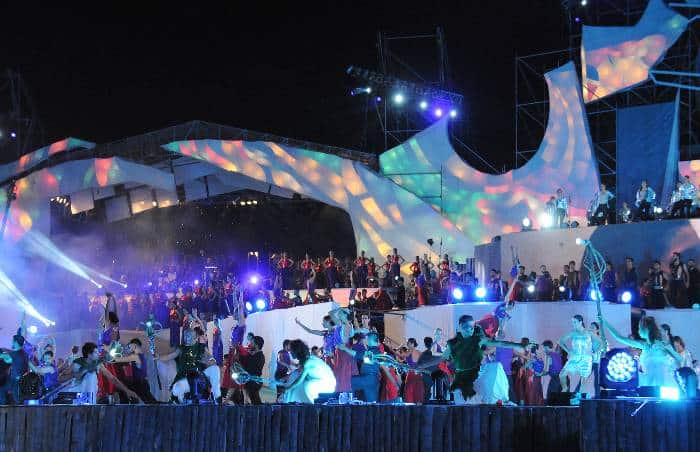 Autumn (April to June)
During these months, temperatures drop significantly, with averages around 12°C. Precipitation also decreases, becoming quite scarce. This season offers the attraction of its climate, avoiding the summer heat and winter cold, with marvelous landscapes of vineyards in shades of ochre, and more affordable prices for tourist services. The autumn colors are beautiful, and many wineries are still finishing the harvest and beginning the wine-making process.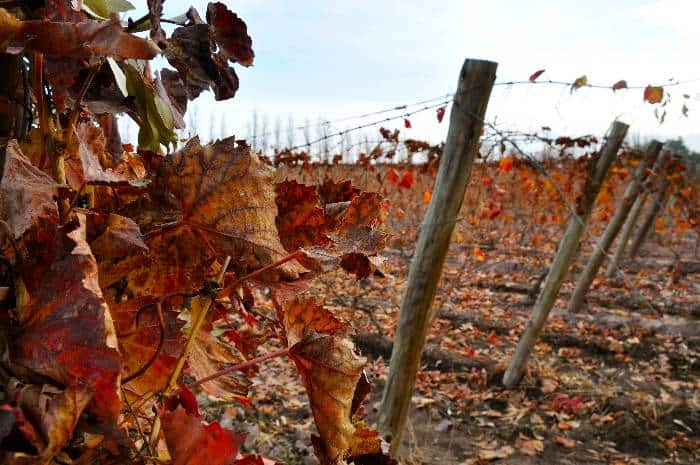 Winter (July to September)
This period boasts the 'snow season' allowing you to enjoy ski resorts located around the city. Regarding the climate, the average temperature is around 10°C, which can easily drop below 0° during the early morning. Precipitation is virtually non-existent. It's the pruning season in the vineyards.
Spring (October to December)
Temperatures range between 26 and 28°C. Similar to autumn, prices for tourist services are more affordable, especially between October and November.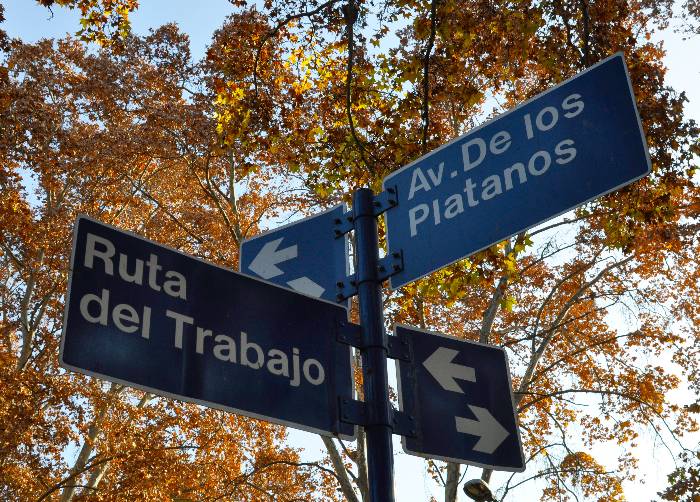 In conclusion, determining the ideal time to explore Mendoza's wine regions depends on your planned activities, preferred weather conditions, and budgetary considerations.
You can experience Mendoza's wines and awe-inspiring natural scenery with our journey 'Argentina in Luxury' adventure through Argentina's finest locations selection, such as Buenos Aires, the Perito Moreno Glacier - one of the world's last remaining advancing glaciers.