Encompassing a vast expanse of 10,000 square kilometers, which is twice the size of the Great Salt Lake in the US, Uyuni stands as an unrivaled gem that captivates every traveler to Bolivia
However, to fully experience this remote natural wonder, travel preparation is essential due to its secluded location, challenging environment, and high altitude. Drawing from our firsthand experience during an inspection trip, we have curated the most relevant information for you.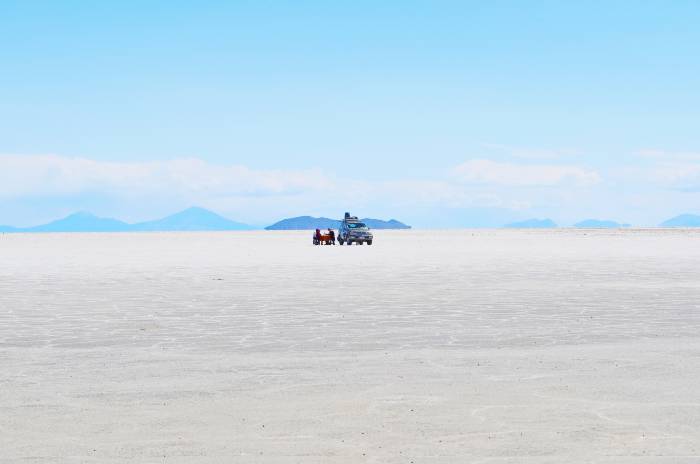 How to get to Uyuni (from La Paz, Bolivia)
Our map below shows the location of Uyuni salt flats in relation to La Paz and Titicaca Lake. While the distances may appear deceptively short, it is crucial to note that Uyuni airport lies approximately 550 kilometers south of La Paz, the main city in Bolivia.
Highlighted in green below, the Eduardo Avaroa Reserve unveils a breathtaking display of awe-inspiring natural beauty. This area, located near the Chilean border boasts a myriad of lagoons showcasing a captivating kaleidoscope of colors.
Located at an average altitude of 3,700 meters (12,139 feet), the Uyuni salt flats demand careful consideration of acclimatization. Prior acclimatization becomes vital to ensure a smooth experience. If possible, a preceding stay in Cusco or Puno in Peru, or in San Pedro de Atacama in Chile, will greatly assist in reducing the chances of altitude sickness and enhance your overall well-being during your visit to Uyuni..
By plane
The 1-hour La Paz - Uyuni flight is operated by the local carriers BoA and EcoJet. During the rainy months (December - February), availability can be limited due to the high number of Asian travelers visiting to witness the captivating 'mirror effect' on the salt flats.
| BoA | Flight | Monday through Friday & Sunday (excl. Saturday) |
| --- | --- | --- |
| LPB-UYU | OB304 | 07:40 - 08:40 |
| UYU-LPB | OB305 | 09:15 - 10:15 |
| EcoJet | Flight | Tuesdays, Thursdays and Sundays |
| --- | --- | --- |
| LPB-UYU | 8J370 | 08:20 - 09:15 |
| UYU-LPB | 8J371 | 09:55 - 10:50 |
By bus
The bus from La Paz is the cheapest option and covers a distance of around 550km over a period of 9 hours. While this option may be tempting for those who are traveling to Uyuni on a budget, we recommend opting for a trip by plane as you will be spending almost a full day on the bus. While the buses have reclining seats and can be 'comfortable', due to the altitude and time spent in the vehicle, you will arrive at your destination extremely tired and won't be able to truly enjoy the sites.
By train
Trains to Uyuni are rarely used as they require a longer travel time and are not very reliable. Sometimes the heating in the carriages did not function, and when you are at altitude, heating makes a BIG difference to your comfort. This mode of transport is also slightly slower than taking the bus.
You will need to first catch a bus to the Oruro station from La Paz. This is a 4-hour journey, before you can board your train for a further 7-hour trip down to Uyuni. There are two train options on offer:
The more comfortable train, 'Expreso Del Sur', departs from Oruro on Tuesdays and Fridays at 2:30 pm.
The cheaper 'Wara Wara' departs Oruro at 7:00 pm on Wednesdays and Sundays.
How to get to Uyuni (from San Pedro de Atacama, Chile)
This is a private service, as there are no tourist/public buses available along this route. You will need to also change vehicles at the Hito Cajon border post to continue your onward journey. This is perhaps the most expensive option, the reason why can be seen below:
You can expect a 1-hour travel time from San Pedro to Hito Cajon (paved road).
And then cover a distance of 416 km from Hito Cajon to Colchani in Uyuni (gravel road)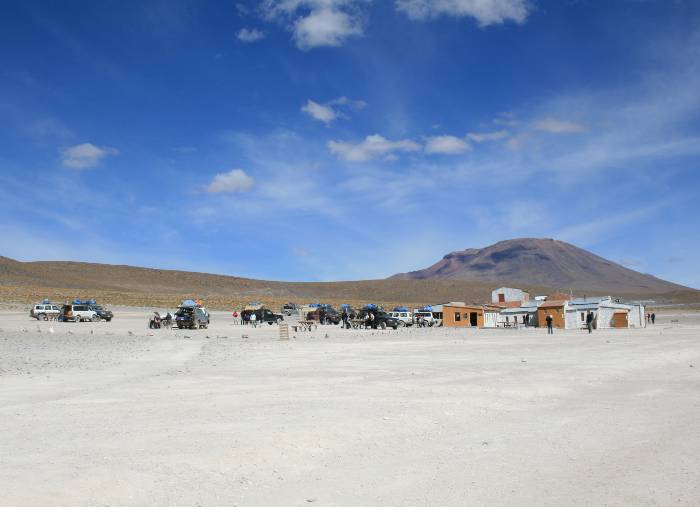 The entire trip will be done in a 4x4 vehicle as there are only uneven gravel roads along the way, so be prepared for dust and bumps. Your driver will travel from Uyuni to the border post to collect you as there are no transportation companies in or around Hito Cajon.
Though, the route from Hito Cajon to Uyuni boasts surreal and pristine landscapes untouched by mass tourism. Our tip is to spend a night halfway, at Ojo de Perdiz close to the Siloli Desert. Then, there is enough time to make stops en route when entering from Hito Cajon.
Below are the 'Highlights of the Eduardo Avaroa National Reserve' and our pictures of when we visited the area.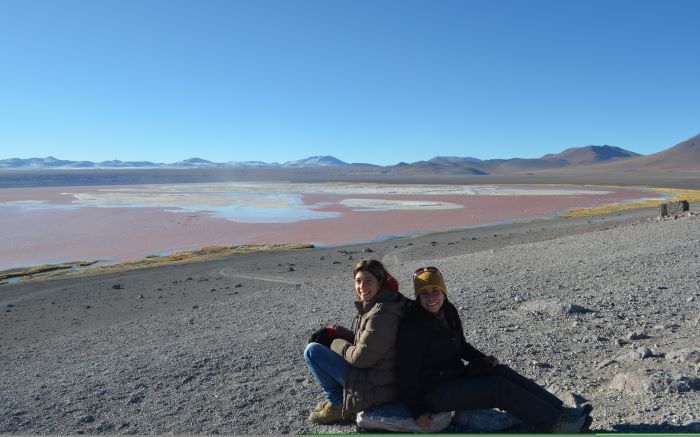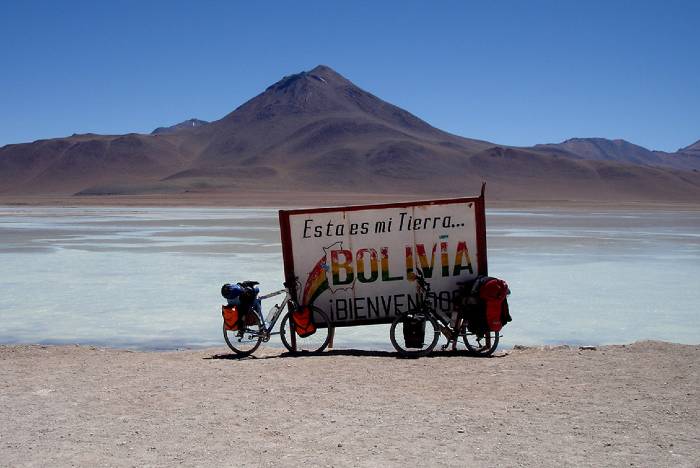 What To See in Uyuni?
If you're looking at only visiting the highlights in Uyuni, one full day will be perfect. Depending on what you would like to see, selecting the right season/time to go is important. Regardless of the season that you choose to travel there are a number of exciting highlights that are available year-round:
Fish Island (if you travel in the dry season)
Train cemetery
Artisanal salt production
A clear sky with an abundance of never-seen-before stars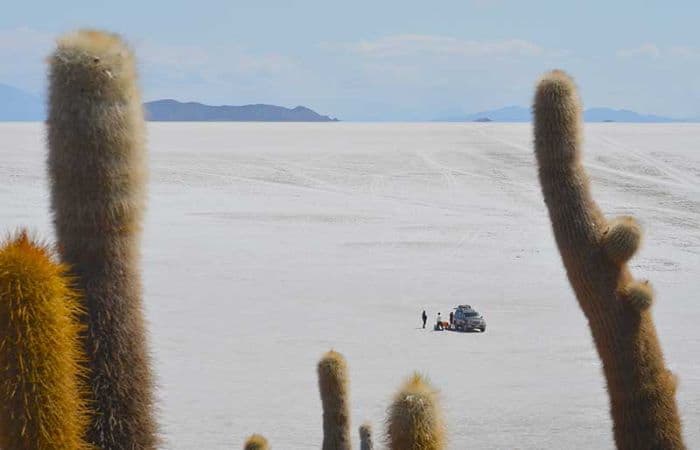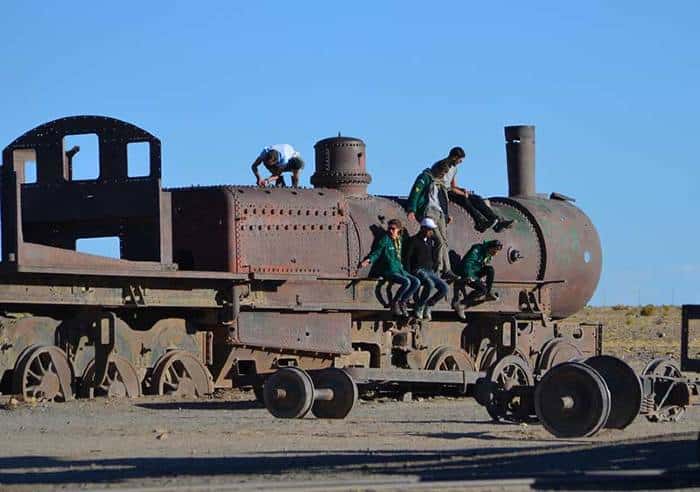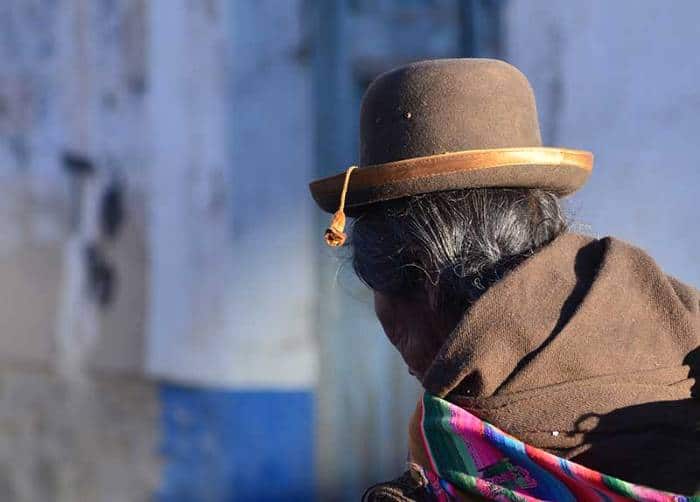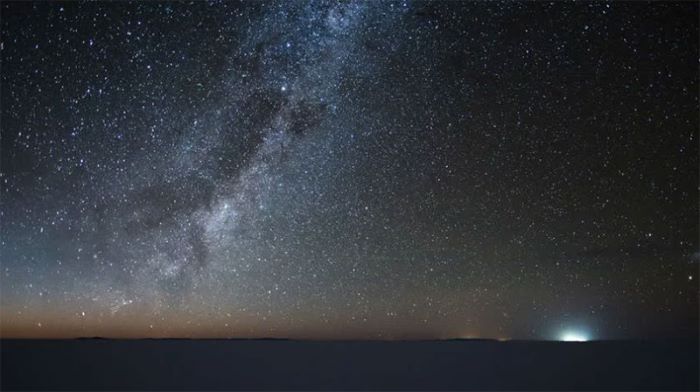 Spending 3 days in Uyuni
If you have a little more time in your schedule and are looking to explore the salt flats as well as its surrounds, then we recommend a 3-day stay. This will allow you to include some of the awe-inspiring highlights in the Eduardo Avaroa National Reserve, situated south of the Uyuni salt flats (see our map above). The landscapes can be also seen when coming from Chile en-route to Uyuni.
Highlights in the National Park Eduardo Avaroa
The Red, Green, White and Hedionda lagoons - The salt flat area is rich in minerals and mineral deposits and algae which give these closely situated lagoons their distinct and stunning colors.
Tree Stone - The 5-meter-tall 'Arbol de Piedra', as it's otherwise known, was formed by wind erosion over millions of years. It has been aptly named after its unique appearance, which resembles a surrealist vision of a tree.
Salvador Dali Desert - As its name suggests, the landscape in this area of the National Park resembles the surrealist paintings by Salvador Dalí, specifically his 'Naked Woman in The Desert' art piece.
Flamingoes - These docile pink creatures can be seen feeding on the algae in the lagoons that surround the area, so keep an eye out for them and bring some binoculars with to get a closer view.
Tunupa Volcano - Situated at 5 321m above sea level, a hike up this dormant volcano will afford you some of the most spectacular views over the salt flats, complete with a visit to some skeletal remains and mummies in the caves on the northern slopes.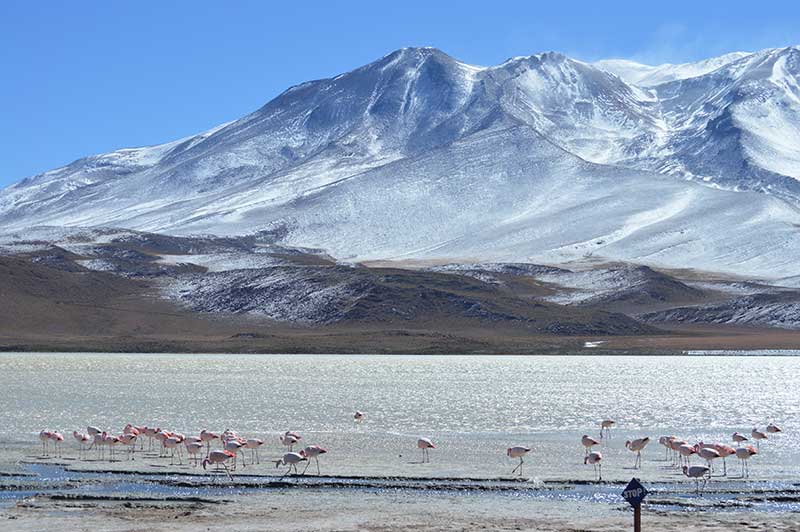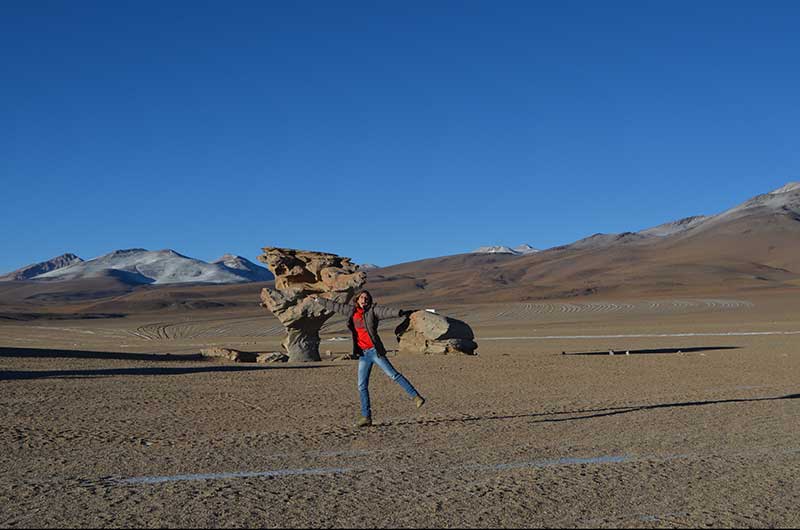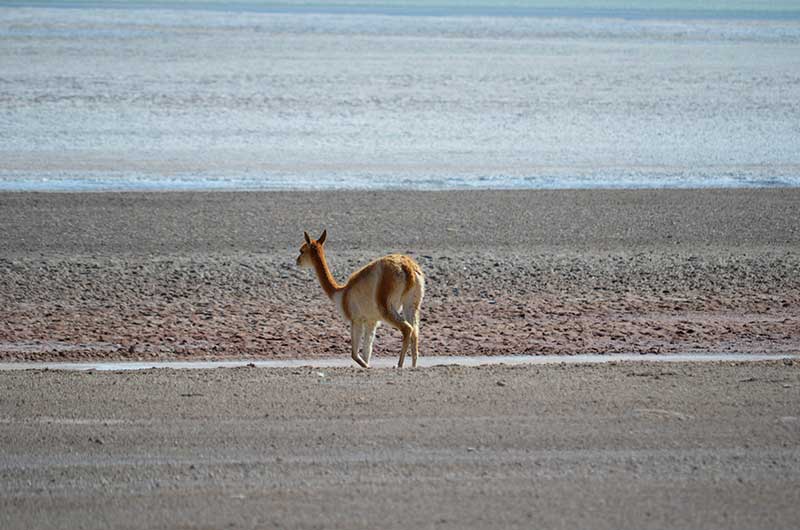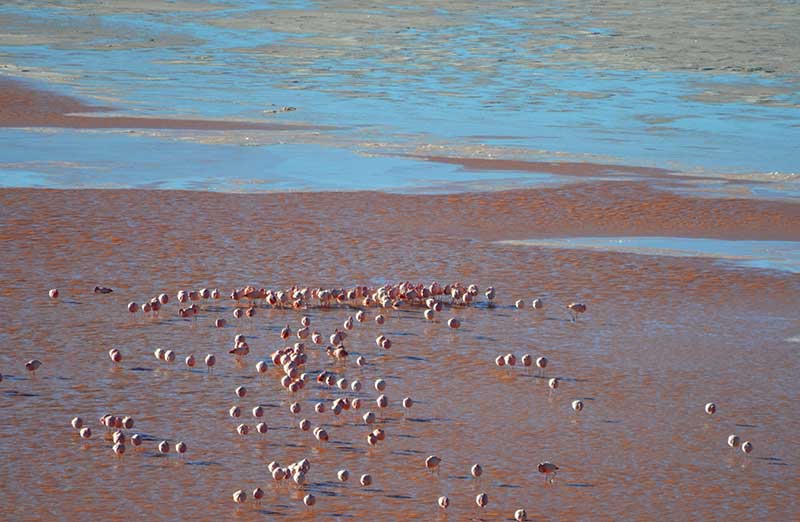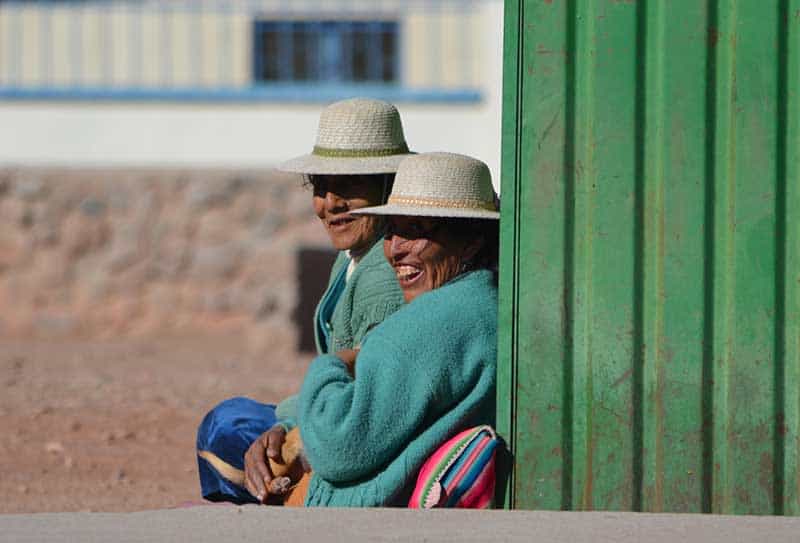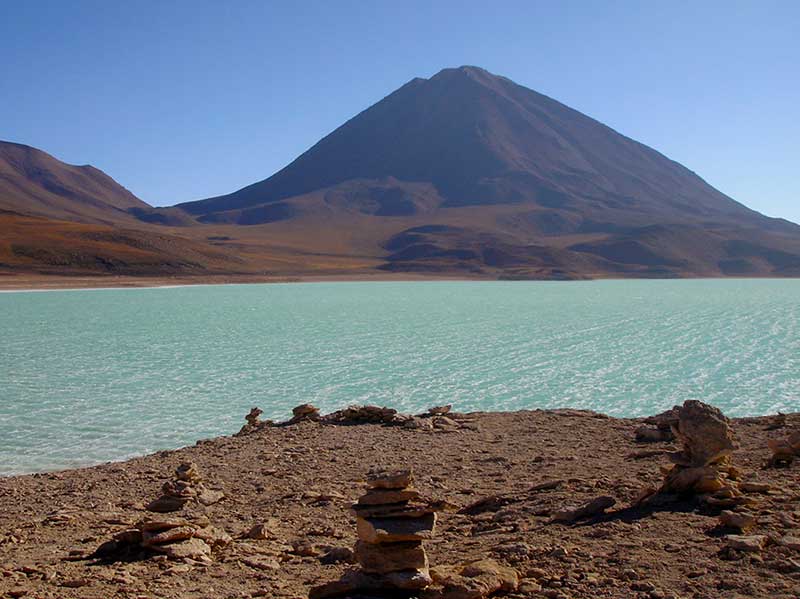 When to visit
Rainy season (December - March)
This is the season that is most preferred by photographers (and Instagrammers alike). During the rainy season, the salt pans will flood and create the well-known 'mirror effect'. An illusionary place on earth where the ground and the sky become one.
During this time it is not possible to travel far on the salt pans. Fish Island, with its giant cacti and stunning panoramic views over the endless salt-scape, is unreachable.
Dry season (April - November)
Fish Island - This island is home to scores of 8 -12 meter high cacti, some of them over 200 years old. It is a unique destination in the midst of the snow-white salt with 360-degree views over the salt flats.
This is the season preferred by most travelers and where all of the viral videos and pictures with illusionary effects on the dry salt flats are created.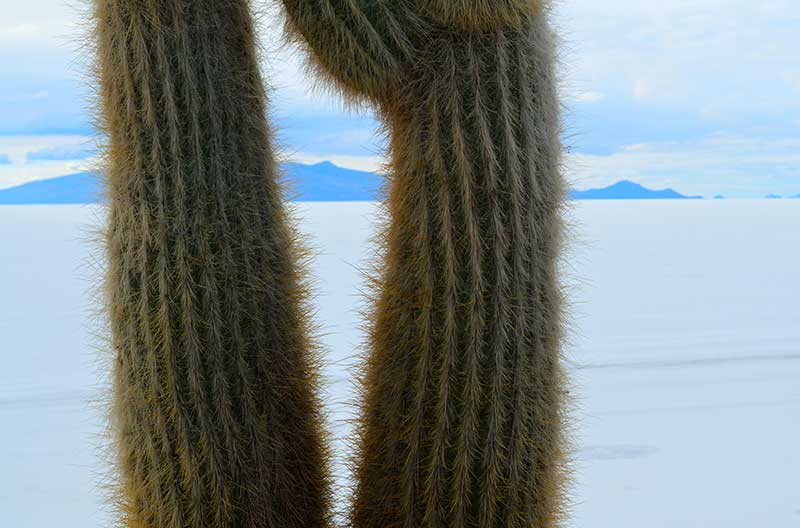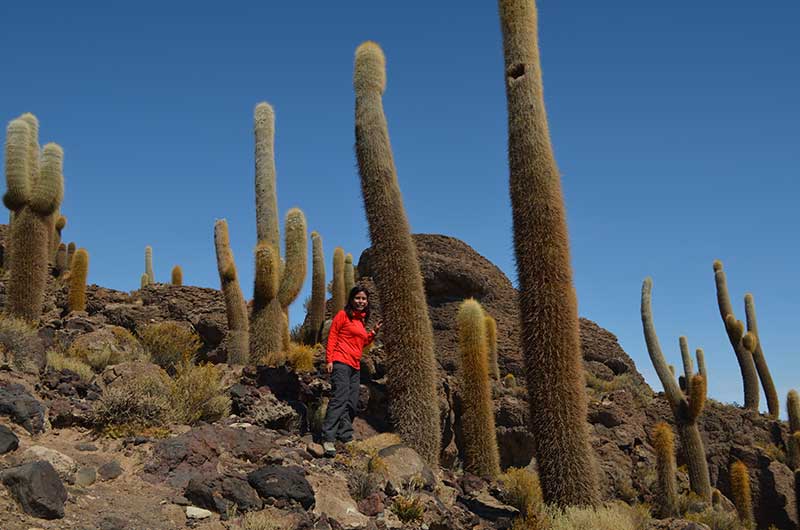 Where to stay in Uyuni?
Salt Hotels
The salar is famous for its salt hotels, and yes, they are really made out of compressed bricks of salt! Two of the most well-known salt hotels are Palacio de Sal and Luna Salada.
These hotels are not actually on the Salar itself but rather situated along its shores in Colchani, a 25-minute drive from Uyuni town.
Perched atop a hill with stunning views over the Salar is where you can find the Luna Salada hotel, our recommended option for those looking for some panoramic views over the salar below.
22 of the available 49 rooms at Luna Salada come with these stunning views over the salar and there are different room categories to choose from including twin, deluxe and matrimonial.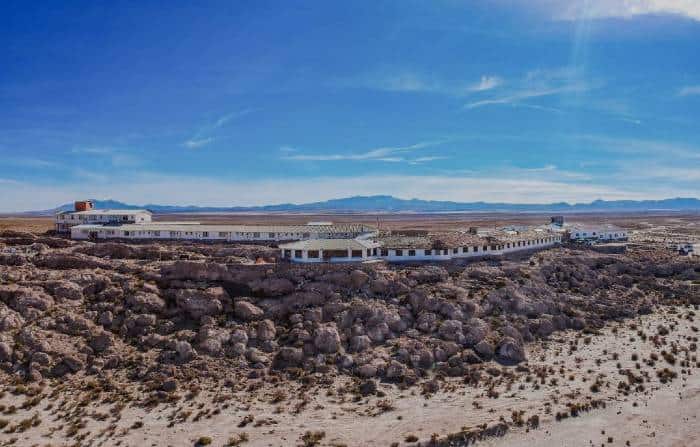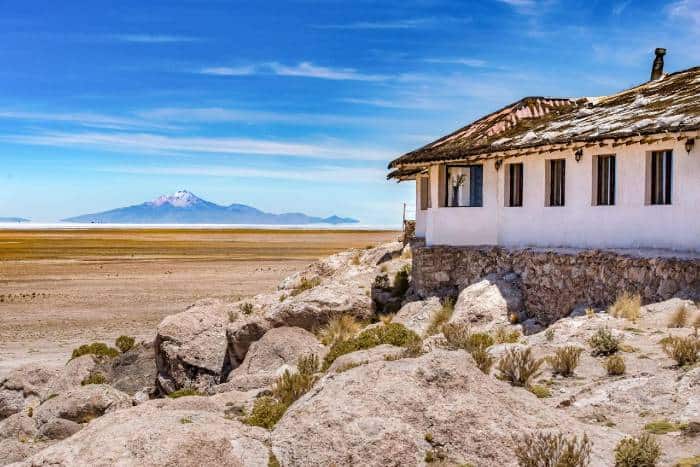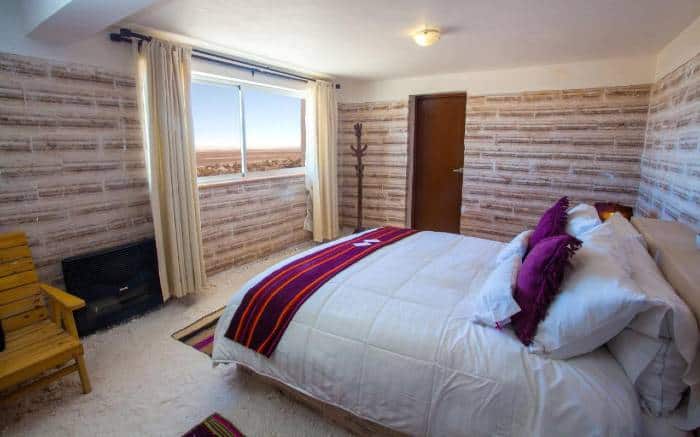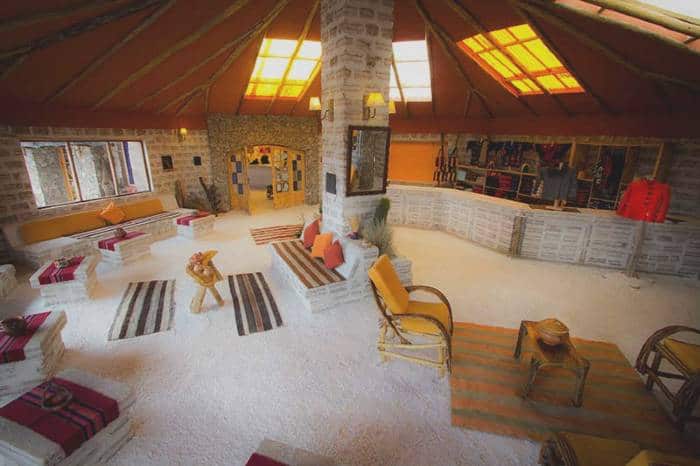 Airstream Campers
Another option is to stay in retro Airstream campers on the actual Salar. An unforgettable experience where you feel like you are surrounded by absolute nothingness.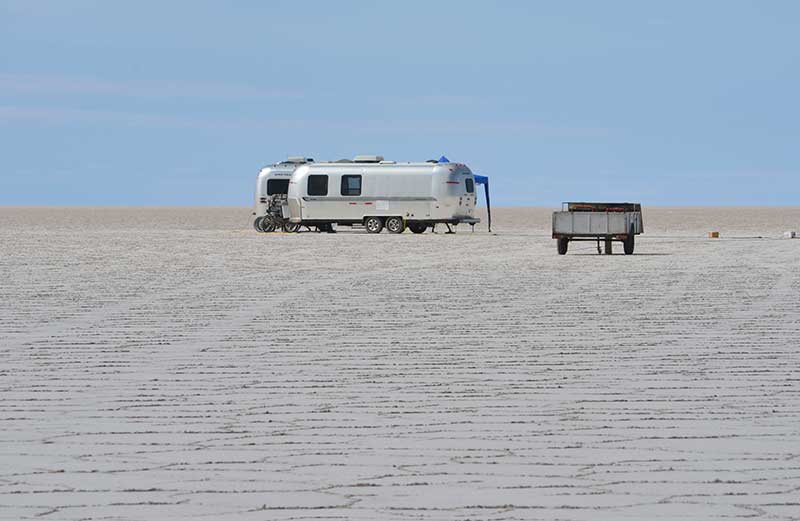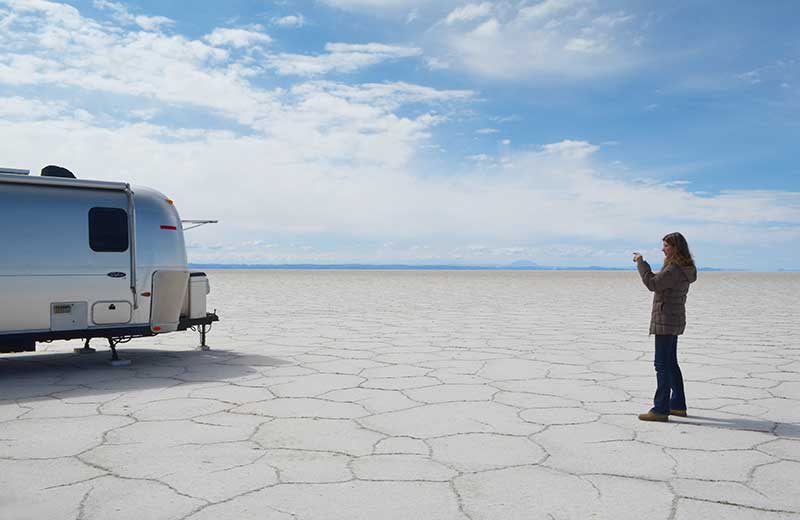 Inns in Uyuni Town
If you are on a budget there are a considerable number of basic inns in the town of Uyuni (~ population 30,000) which you can stay in.
Uyuni town isn't really a beautiful place to stay in. The best option is to stay in Colchani (22km from Uyuni town) on the shores of the salt flats (where you feel like you are completely removed from civilization).
Why is visiting Uyuni expensive?
The salt flats are relatively difficult to get to and it is not as simple as catching a flight directly there and visiting the site.
Distances covered in the area are long and there are no highways connecting anything, only bumpy gravel roads and trails that experienced drivers are trained to recognize can be used.
Tours can be only done with 4x4 and costs are not able to be split among a larger number of passengers as it is with regular tours in larger cities. Everything you need during your trip as supplies for your picnic lunch, water, gas, etc, is packed on the vehicle as you can see in our picture below.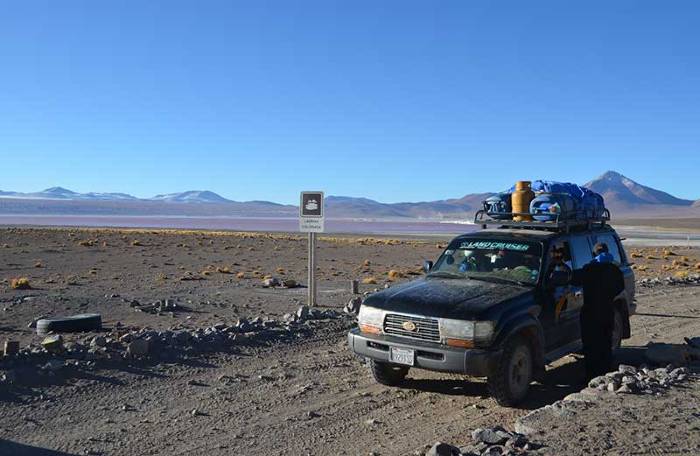 The harsh conditions of Uyuni can be particularly challenging for vehicles, as the salt can cause damage and increase the running costs.
Uyuni, being a small town, lacks extensive infrastructure. Finding guides proficient in languages such as German or French can be challenging. In most cases, these guides need to travel from La Paz and are only available for prearranged trips.
We highly recommend selecting your service provider carefully and well in advance. By doing so, you secure a guaranteed price and reserve a well-maintained vehicle. It's crucial to exercise caution as there are numerous informal drivers attempting to service this route, often resulting in accidents.
Due to the limited infrastructure along the journey, immediate access to first aid or hospital services may not be readily available in case of any vehicle-related issues.
What to bring
Sunscreen and a hat
Binoculars
Sunglasses. Not for looking trendy in your photos, but they will definitely help keep the salt out of your eyes.
Warm clothes for the cold/windy days/nights
Flip flops, especially if visiting during the rainy season. Trying to get the dry salt off of your hiking boots can be a real pain.
Bring along some easy to roll up pants, especially for the rainy season
Rain jacket/poncho
Water bottle