The oasis town of San Pedro is the gateway to the world's driest desert, the vast 'Desierto de Atacama'. Most visitors allocate around 3 days to fully experience the must-see attractions, including the captivating Atacama Desert, mesmerizing lagoons, the otherworldly landscapes of Moon Valley, and the awe-inspiring geysers of Tatio.
In the wake of the pandemic, there has been a growing yearning for serene moments amidst the great outdoors, away from bustling crowds. While the iconic sites of Atacama remain must-visit destinations, we understand the desire for a more tranquil experience. In this blog article, we share some tips to cater to these common needs. Discover hidden gems and alternative routes that offer a respite from the crowds, allowing you to immerse yourself in the beauty of Atacama while finding moments of contemplation and serenity.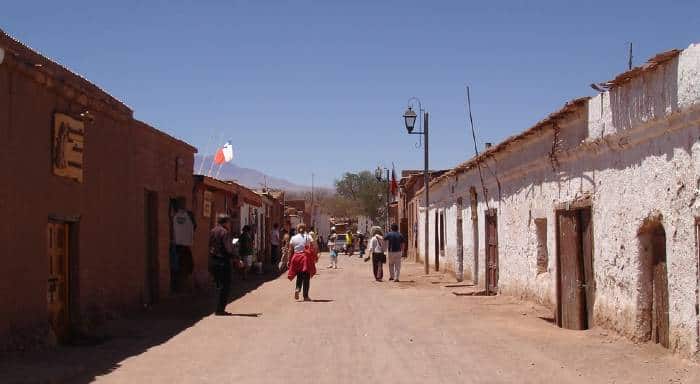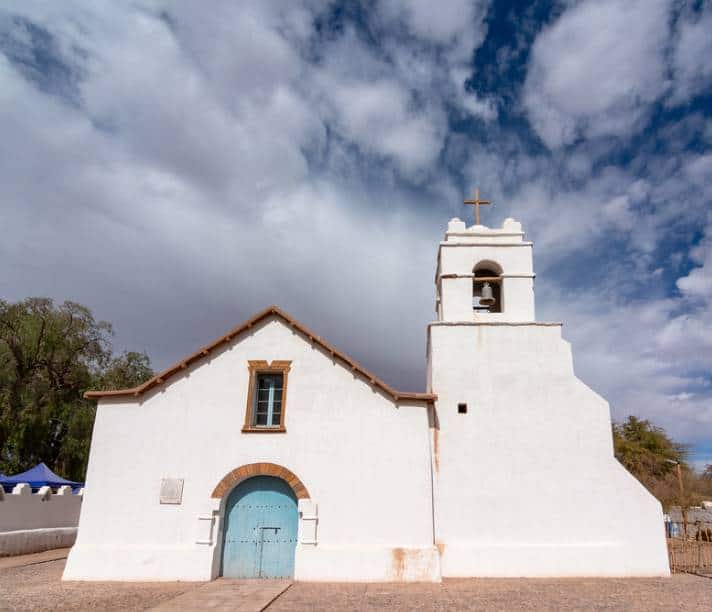 Our Playlist to Inspire Wanderlust for San Pedro de Atacama
The physiognomy and culture in Chile's northern and southern regions exhibit notable differences, stemming from both geographical and cultural influences. The unique geographic contexts have played a significant role in shaping these distinctions. For instance, the southern region of Chile experienced a significant influx of colonists from German-speaking countries, which has left a lasting impact on its culture and traditions. In contrast, the northern regions, being closer to Bolivia and Peru, have developed stronger affinities with these neighboring countries.
However, despite these differences, one aspect that transcends language barriers is music. With that in mind, we have curated a captivating Spotify playlist to serve as an introduction to your stay in San Pedro de Atacama.
One song that holds a special place in my heart is 'Vuelvo' (I come back). Every time I listen to it, it takes me on a nostalgic journey back to Chile, a country that holds immense meaning to me. Having lived in Chile for many years, I have developed a deep love and connection with its rich culture, breathtaking landscapes, and warm-hearted people.
Surreal Colors in the Rainbow Valley
Having hiked the Vinicunca Rainbow Mountain in Peru (at 5,200m) the first place on our bucket list was the 'Rainbow Valley and Yerba Buena Petroglyphs'. I wanted to compare both places that feature a vibrant collection of multicolored geological formations.
The Rainbow Valley in San Pedro de Atacama lies at a lower altitude (3,500m). It impressed us with the intensity of colors, although I would classify it as a circular soft walk over a hike that takes about an hour to complete
It wasn't crowded at all and we had enough opportunities to take pictures of us 'in action' without other travelers in the background.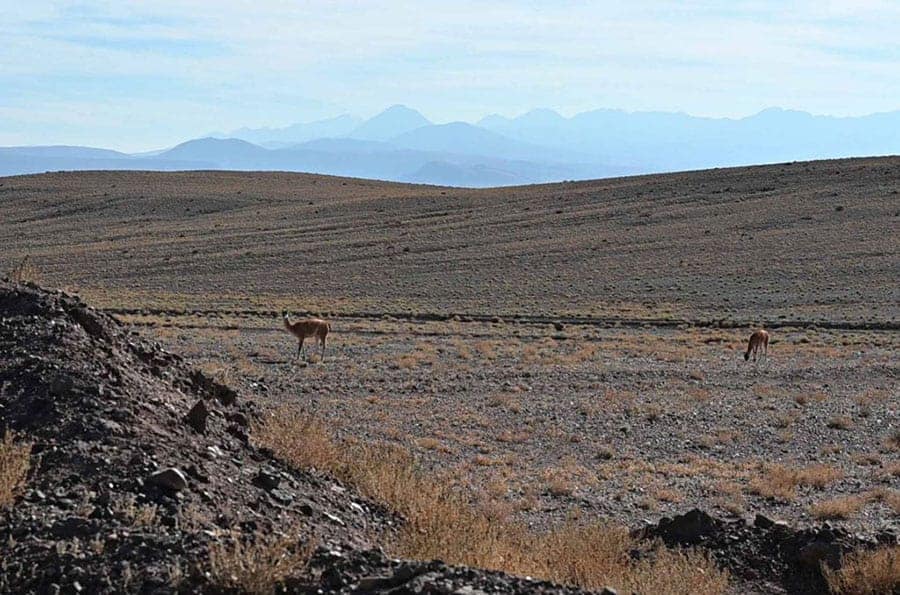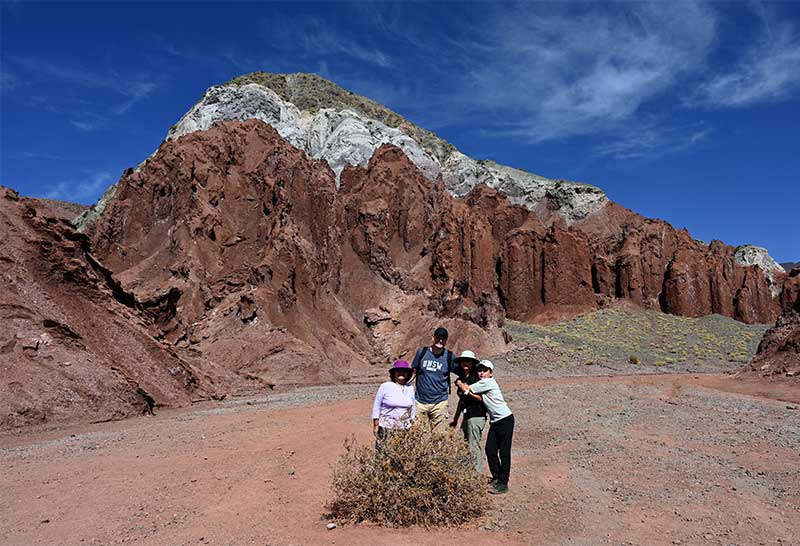 Nestled within the Domeyko Mountain Range, the Rainbow Valley has a creation story that spans several hundred million years. Our guide took the time to patiently explain it all to us.
Interesting is that the Domeyko Mountain Range is considered a part of the Andes and that it is actually much older.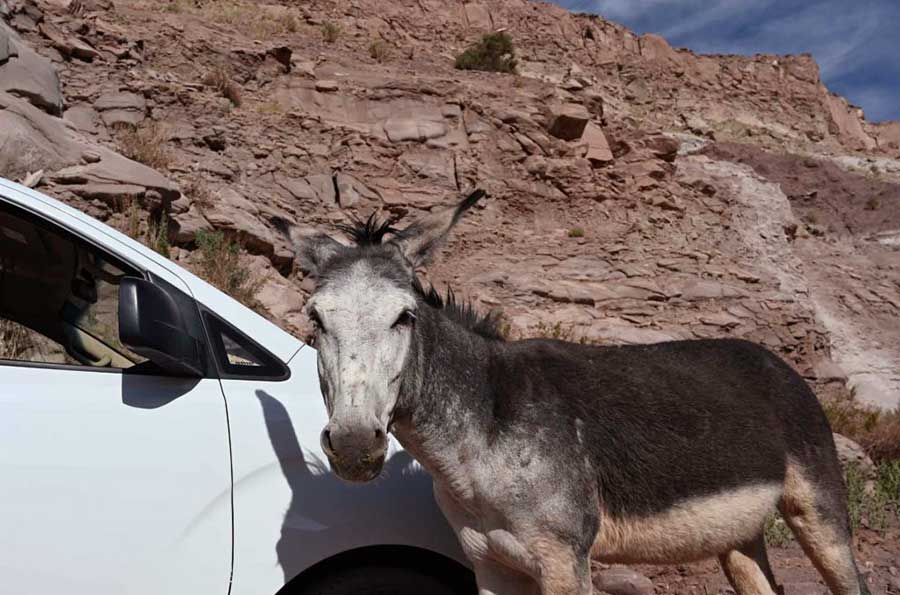 We recommend leaving as early as possible from the hotel (we decided to skip breakfast) for the best light for our pictures. Our guide and driver surprised us with a light breakfast before heading to Yerba Buena (3050m) to see its petroglyphs. At the time we went there, unlike most of the places we visited, there were no public toilets (so ask your guide for updated information before drinking plenty of water and coffee which is permanently recommended in San Pedro).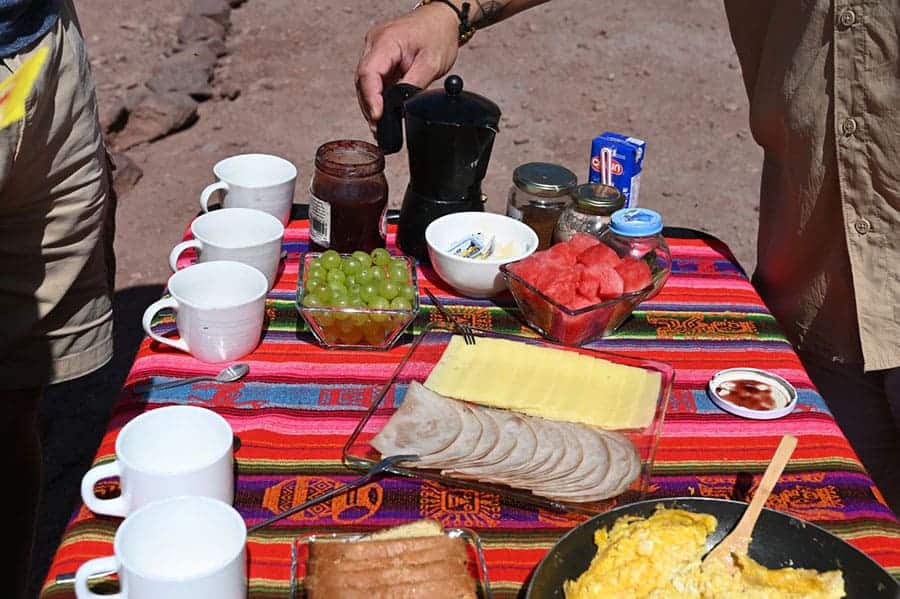 Exploring the mysterious rock art of Chile's northern deserts
Throughout Chile, there are expressions of rock art left behind by different people that inhabited the country's diverse regions. The Atacama region is impressive in this regard with the first of many surprise locations being Yerba Buena (65km from San Pedro).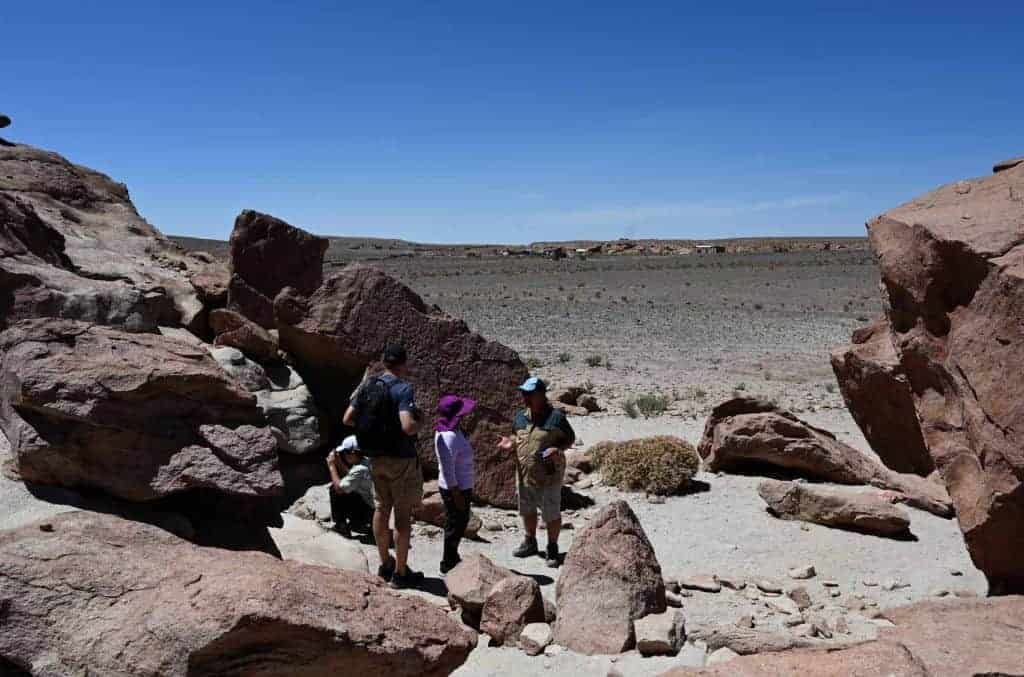 This sort of natural amphitheater lies in the conjunction of the Domeyko mountain range with the Salt Mountain Range (Cordillera de la Sal) and the Andes Mountain Range (Cordillera de los Andes). Perhaps the location aimed at transmitting the inseparable connection of the Atacameno people with Mother Earth (or Pachamama)?
We could see engravings of llamas, foxes and the 'Lord of Camelids' created in a variety of styles. Researchers estimate that the first figures at the rock shelter were created between 800 and 400 BC.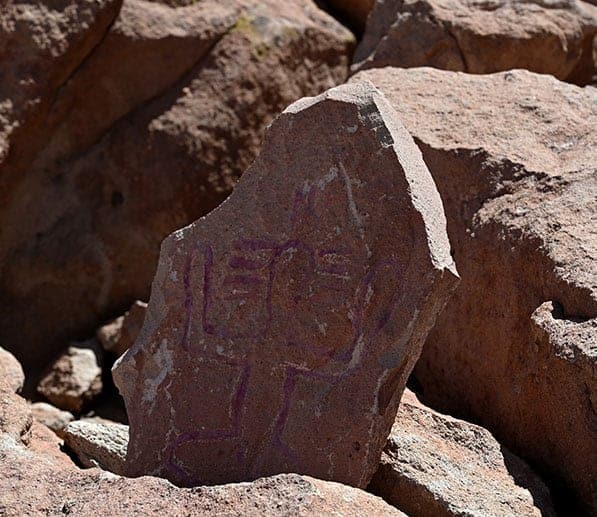 Chaxa and the 'Other' Lagoons: Tebinquiche and Cejar
Having our child along for the journey, we decided to combine the Chaxa Lagoon with the Tebinquiche and Cejar Lagoons (rather than with Toconao town). He has never been to Israel (and the Dead Sea) and he couldn't wait to experience the effect of the high concentration of salt in a lagoon that would allow him to float like a buoy above the water!
Despite the number of travelers, Chaxa Lagoon, in the heart of the Atamaca Salt Flats (covering an area of 3000 km²), impressed us with its awe-inspiring views of Cordillera de la Sal.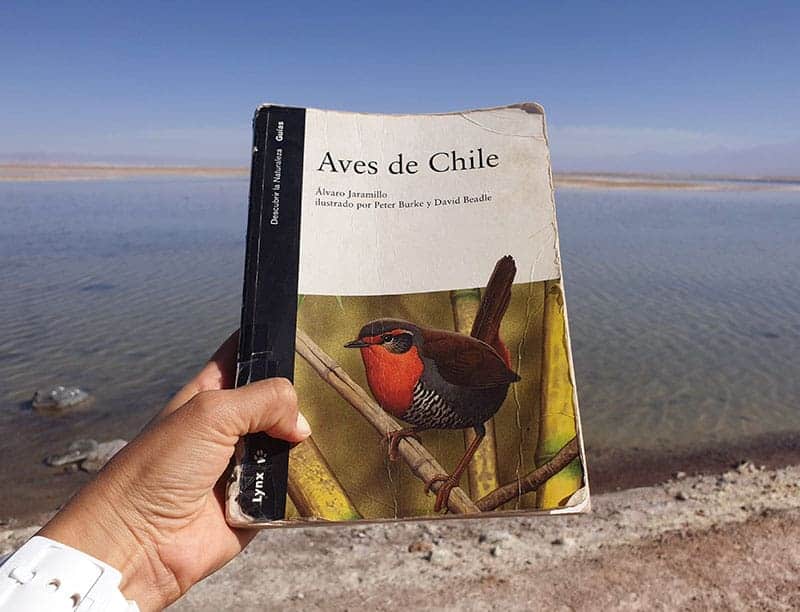 Our guide said that the number of flamingos has sadly declined over the past few years. Despite this fact, we could still see many from a distance.
For our boy, it was the highlight of the day to be able to see and photograph two different flamingo species: The James and the Chilean flamingo.
Bring a camera with a telephoto lens if you want some close-up shots as they do not allow for visitors to come too close so as not to disrupt their natural habitat.
The James flamingo, which can be only seen in the Andes (Peru, Bolivia, Northern Chile and Northwest Argentina) is the palest and the smallest of the South American flamingos. The adult has pale pink plumage with bright carmine streaks on its breast and back. Juveniles are pale greyish with fine blackish streaks on their upperparts.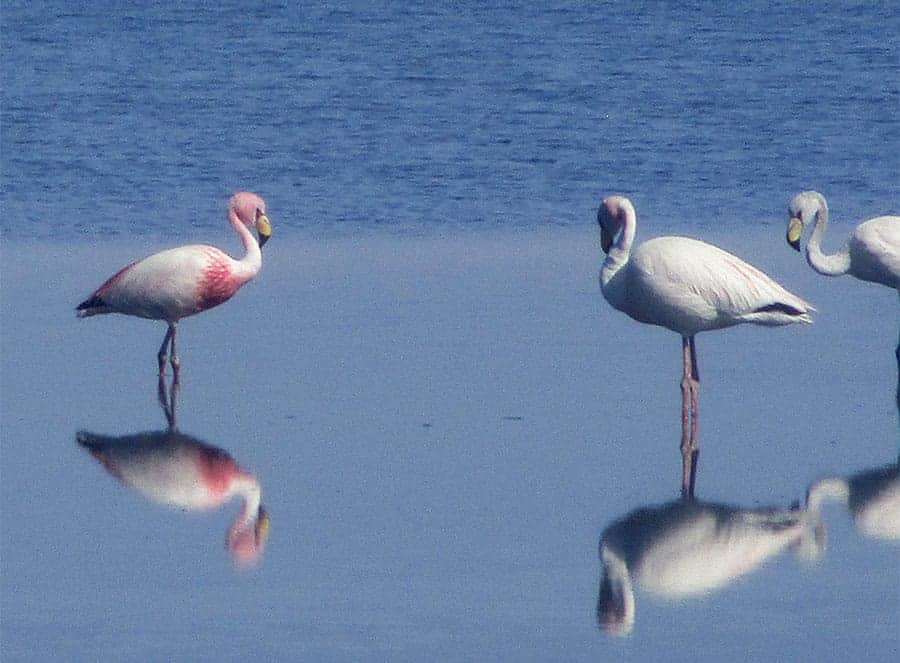 Widespread and often in larger numbers, you can recognize the Chilean flamingo immediately by its grayish legs with red 'knees'.
The Tebinquiche Lagoon is also called 'Origin'.
Do you know the meaning of the stromatolite?
Well, we didn't, so our guide was patient enough to explain the relationship between 'Origin' and 'Tebinquiche'. In short, stromatolites are the oldest fossil records of life on Earth (dating back over 3.7 billion years).
Stromatolites are formed by bacteria that were among the earliest photosynthesizers, responsible for starting the process that boosted the oxygen in the atmosphere from less than 1% to more than 20%. Only a handful of locations have been found with active stromatolites and one such place is Tebinquiche. There was absolutely nobody there.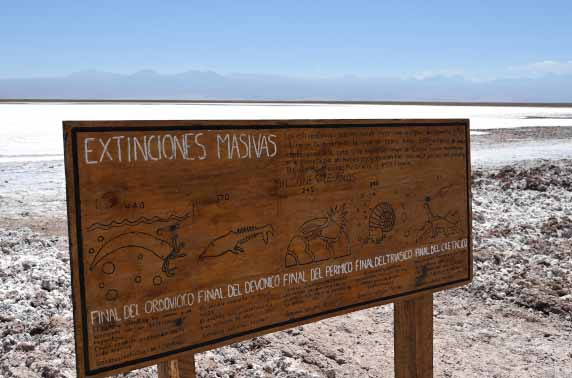 The long-awaited stop at Cejar was finally here. We also saw some guests from Explora Atacama there. Similarly, as with us, their guide and driver were waiting with a glass of wine and snacks after relaxing in the water.
Our guide said that only a few travelers are usually seen here as this is one of the most expensive entrance fees in the area.
It was good to see that the local community were so well organized. There are clean showers and changing rooms (everyone wanting to take a dip in Cejar Lagoon has to take a shower before in order to reduce the amount of sunblock in the water).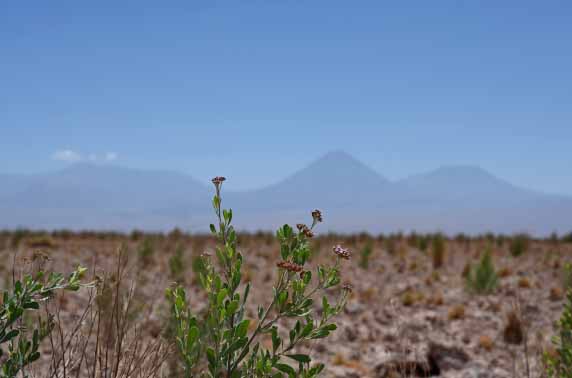 Dark skies in the Atacama Desert
Many say that there is nowhere on Earth that is better for stargazing than Chile's Atacama Desert.
Many companies in town offer night-time tours, but we wanted to skip intermediaries and look for a more personalized experience. We were lucky enough to find Alex and his mother. The passion, enthusiasm, and knowledge for astronomy of this young entrepreneur made the night enjoyable despite having to wait quite a while for the moon to set. He picked us up from our hotel in his vehicle and together with 2 other couples (the maximum capacity of his vehicle is the maximum number of participants, namely 6). We head out of San Pedro.
And after traveling for about 30 minutes, his mother was waiting for us with coffee, tea or wine.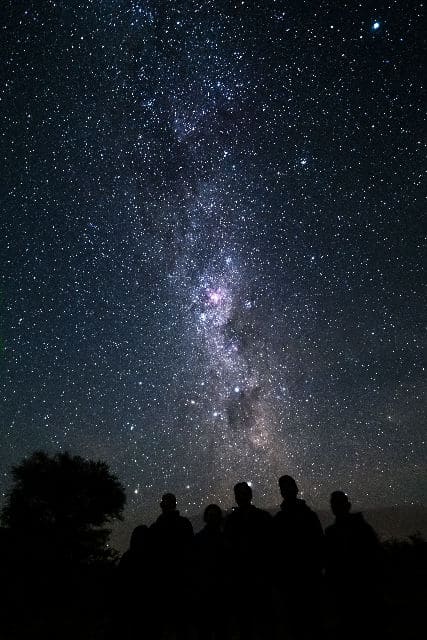 Later she even offered us freshly made 'empanadas' and 'sopaipillas'. Alex managed to create a friendly atmosphere, accommodate our preferences and answer all of our questions (both photography and astronomy related). He went on to show us first the moon and then the constellations using his 2 telescopes.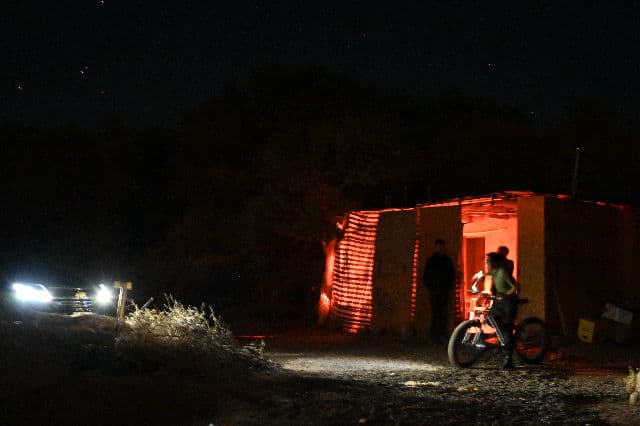 Our tip: check out the moon calendar before scheduling your trip to the Atacama if stargazing is a must. Tours don't operate during the full moon although they are refundable (as it could be canceled last minute if visibility conditions are not favorable).
The ALMA (Atacama Large Millimeter/submillimeter Array)
For the real astronomy buffs, we recommend booking a visit to the ALMA observatory, the world's largest ground-based facility for observations.
ALMA (50 km from San Pedro) is open every Saturday and Sunday morning to the public. Visitors must register in advance by filling this online form (to obtain a free entry pass).
Visitors will gain access to the ALMA Operations Support Facility (OSF), where the staff work and can see the control room, laboratories and antennas under maintenance (if available). The antennas are located on the Chajnantor Plateau (at 5000m) but can't be visited (due to safety reasons).
But, not to worry, here is a link to a fascinating virtual tour.
Our tip: even if you don't receive the confirmation, make sure that you apply for the waiting list.
Peter tried his luck while in San Pedro and headed to the meeting point where the ALMA bus picks up the visitors and brings them to the OSF. All the visitors who had registered for the waiting list could be taken (as some confirmed visitors didn't show up). The bus leaves at 09:00 and returns to the meeting point at 1:00 pm. There is no chance to reach ALMA with a private vehicle if you miss the bus.
In April 2019 it was possible to see the first picture of a black hole at ALMA !
Curious to find out more? Take a look at this video
A sundowner at the Death Valley
With our child in the party, we wanted to do something exciting. We were recommended a drive to the Death Valley (2 kilometers from San Pedro de Atacama). This place is one of the best spots in Chile to glide down massive sand dunes (sitting at 150 meters high).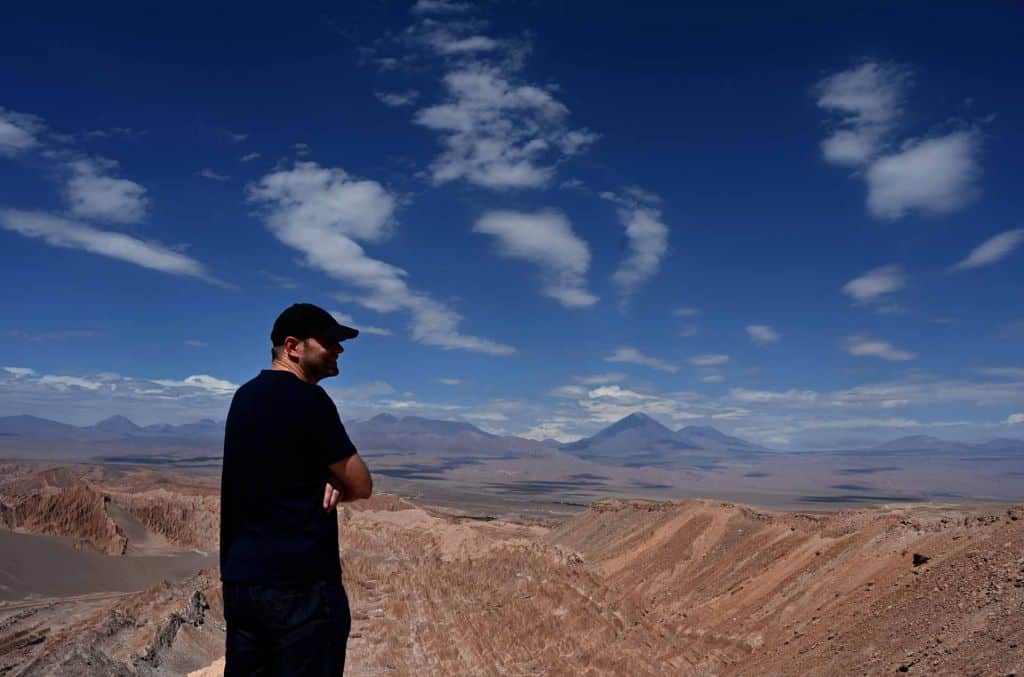 The stunning views of the valley and the Licancabur volcano before sunset only top off the already amazing experience.
We were impressed by the topographic formations and dunes surrounding the valley with the San Pedro de Atacama town in the background.
Our guide Joel went on to explain to us too that we were in an incredibly special place.
We spent a few minutes embracing the views of the Licancabur Volcano, a peak of conical perfection, the Salt Mountain Range, the Domeyko Mountain Range and the Andes.
After recording our experience with many pictures and short videos we returned to San Pedro town to sample some empanadas and follow our guide's tip (we can highly recommend 'Emporio Andino').
Later we dared to sample a 'rica rica' sour – a Pisco Sour infused with rica rica herb. An absolute must while visiting San Pedro.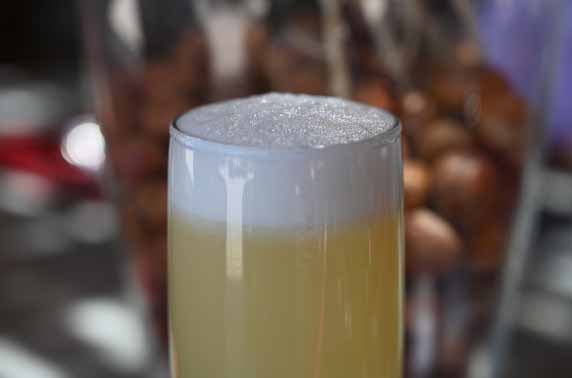 This trip has been truly unforgettable. Based on our experience, we highly recommend allocating a minimum of four days for exploring the mesmerizing Atacama Desert. This timeframe allows you to fully immerse yourself in the must-see attractions while also venturing into the surreal and lesser-known outdoor destinations that lie off the beaten path. Additionally, it's worth taking the time to connect with the local people, as they have invaluable insights and recommendations to enhance your journey.
By allowing some flexibility and incorporating buffer time into your itinerary, you can embrace spontaneity and seize unexpected opportunities to visit places that come highly recommended by the locals. This approach ensures a well-rounded and enriching experience in the Atacama Desert, enabling you to fully appreciate its beauty, culture, and hidden gems
One of the richest experiences for us was the chance to listen to our drivers and guides that shared their point of view with us, to learn from them about the Chilean society and reality. Of course, as everywhere in Latin America, mixed with funny anecdotes and incredible stories of San Pedro before it was discovered by tourism.
When to Go to San Pedro de Atacama?
Despite being known as the driest desert in the world, even the Atacama Desert has not been immune to the effects of climate change. In recent years, there has been an observable impact, with an increase in rainfall during the weeks of January and February. This occurrence has come to be known as the 'Bolivian Autumn'.
The peak season in the Atacama Desert spans from December through February, coinciding with the summer holidays in Chile. During this time, it is important to anticipate higher rates and limited hotel availability, as the demand for accommodations is quite high.
For those seeking a more tranquil experience with pleasant temperatures and fewer tourists, the shoulder seasons of Fall (March to May) and Spring (September to November) are highly recommended. These seasons offer an ideal time to visit San Pedro de Atacama, as the weather remains favorable, and the tourist crowds are noticeably thinner.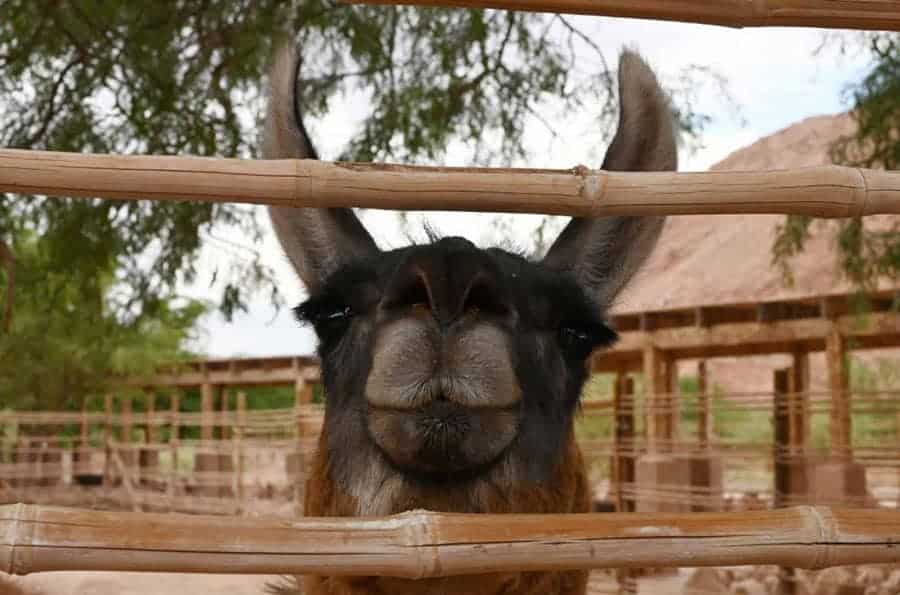 Where to Stay
San Pedro de Atacama has a whole range of accommodation options. At the top of the accommodation pyramid, there are three to five high-end luxury resorts being our favorites:
Tierra de Atacama (32 rooms) boutique luxury with incredible views of the Licancabur volcano, has everything to indulge after a busy day of exploration, pools, bar, spa and outstanding cuisine
Nayara Alto Atacama (42 rooms) where we spent 3 nights faces part of the pre-Columbian fortress of Pukara de Quitor. Casual luxury inspired in the local architecture. Great number of secluded areas including pools to relax and marvel at the breathtaking desert landscape.
Explora Atacama (50 rooms) the place for intrepid explorers wishing to get off the beaten track in style and comfort (40 explorations and its own stable of horses). The largest number of pools.
Habitas Atacama 4* (29 rooms) designed in the local Atacameña adobe style, value option if you are not looking for an 'all inclusive' hotel (the first 3 options)
Don Tomas (70 rooms) definitely a great option (if not the best) in the tourist class. Unbeateable location. We prefer the superior rooms (30m²). No change to open 2 suitcases in the standard rooms (25m²).