Stretching across the southern continuation of the Bolivian Altiplano, this region boasts breathtaking landscapes and remains relatively undiscovered by foreign tourists and even local travelers. Our journey unfolded as a thrilling self-drive adventure, allowing us to uncover the hidden treasures of Northwest Argentina. Join us as we share our crafted day-by-day itinerary.
Additionally, it's worth noting that Salta was recently recognized as one of the 20 most beautiful cities in the world for its stunning architecture, ranking 19th in a study conducted by BuildWorld.
Day 1 Flying to Salta
As you embark on your journey through the Argentine Northwest, you'll immediately notice the stark contrasts in altitude and the extensive distances between each captivating attraction. While there is a well-connected road network, it's important to note that some stretches consist of gravel roads, making a 4WD vehicle an essential choice for your adventure. To help you navigate this remarkable region effortlessly, we've provided a detailed map below.
We head north along the fully tarred 'Ruta 9' and 'Quebrada de Humahuaca' (Humahuaca Gorge) to the tiny village of Purmamarca (at 2,324m).
Only 190 km separate Salta from Purmamarca, but we made several stops to take some pictures of the gorge. Located in the Province of Jujuy, 'Quebrada de Humahuaca' is a desert valley flanked by the high plateau of the Puna, painted in shades of pink, red, and gray. Quebrada de Humahuaca is also a UNESCO Heritage Center. It follows the line of a major cultural route, the 'Inca Trail', along the spectacular valley of the Grande River.
Day 2 Purmamarca - Humahuaca
We stayed in Manantial del Silencio Hotel, just across the '7-Color-Hill' the highlight of Purmamarca. If you want to make the most of your visit, it is better to first climb it as early as possible to take advantage of the space before the crowds arrive.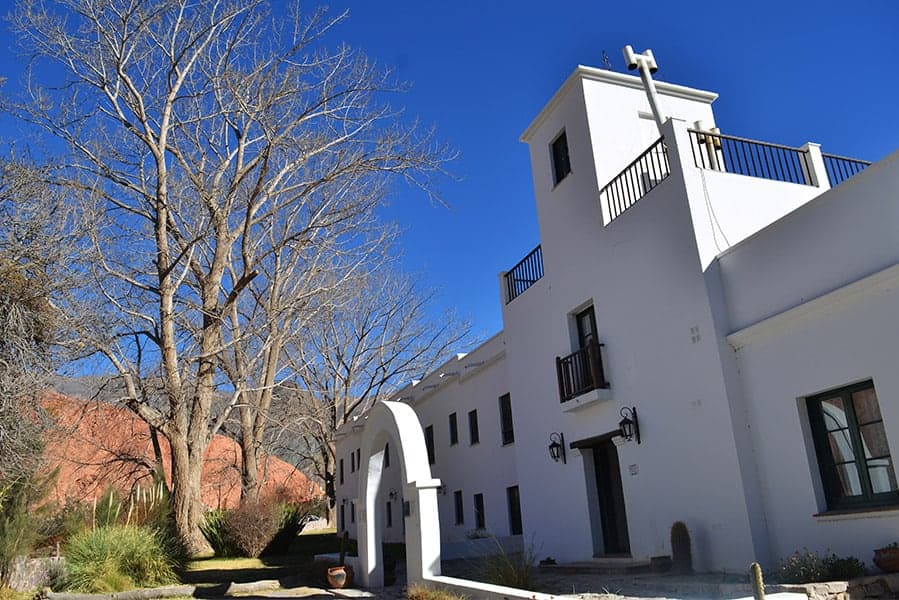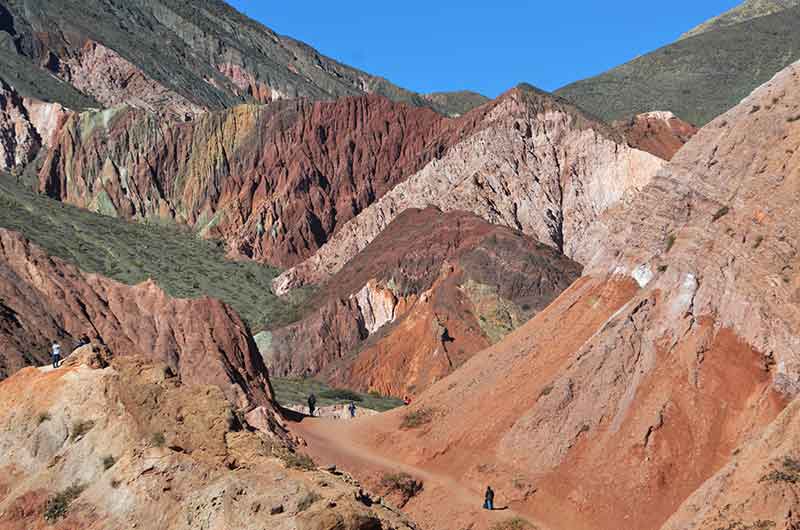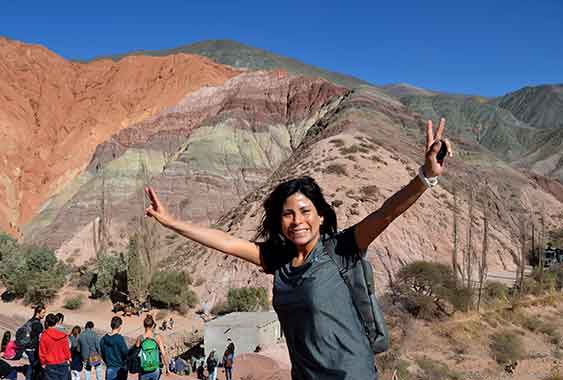 In Purmamarca the streets are really dusty, it was a good idea to wear our hiking shoes! In fact, from this day on, there was no other kind of shoe that could have been better.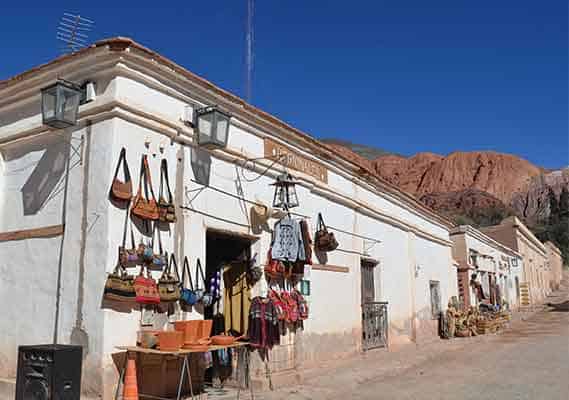 After descending from the lookout point (not challenging at all) we visited the village (filled with stalls selling handicrafts) and took the time to enter the church (dating back to the 17th century). Purmamarca is so small that we were finished with our stroll in 20 minutes.
Our further visits scheduled for today were Humahuaca and the archaeological site of Tilcara (north of Purmamarca). Though, en-route we found out that there is a winery that grows grapes at high altitude, only a 20-minute drive before reaching Tilcara, and we decided to explore it.
The 'Bodega Fernando Dupont' lies quite close to Maimara town at the end of a forgotten road that follows the river (its not possible to get there during the rainy season December – February as there is no bridge to cross the river).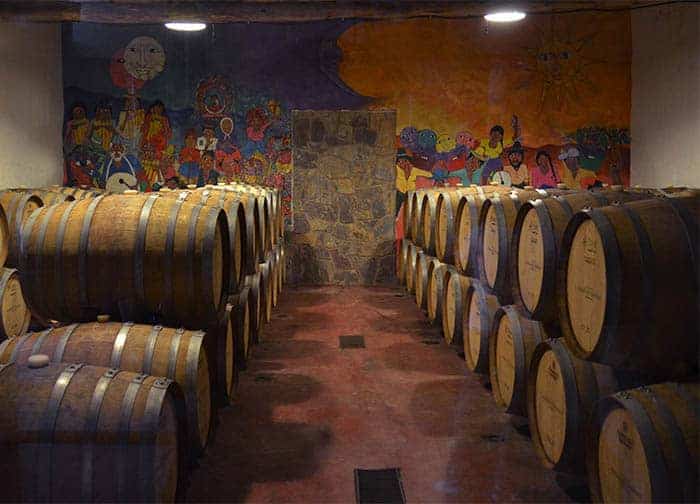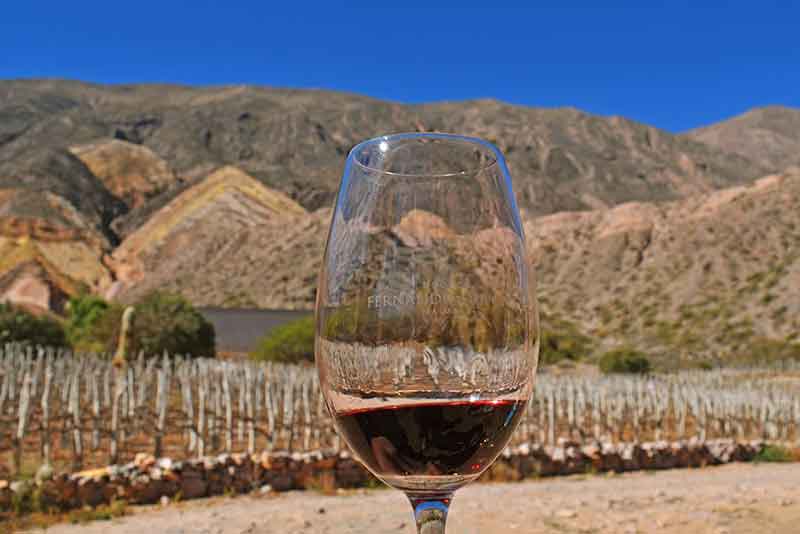 We were so happy that we could find the winery that our answer was self-evident when Amelia (the host) asked us whether we would take the visit that includes a wine tasting. It was inspiring listening to her passion as she explained her entire project to us (Fernando Dupont is the first winery in Quebrada de Humahuaca at 2300m).
After purchasing some wine bottles, we left for Tilcara, a pre-Inca settlement was originally built by the Omaguacas. Most of the remains you find in the archaeological site have been rebuilt (which is quite evident from the moment you enter the site). Though, Tilcara's location atop a cliff provides great views of the Grande River and the valley. We didn't have time to enter the local museum but think it would be a great complement to the visit. The museum (with explanations in Spanish only) displays artifacts from the pre-Hispanic era.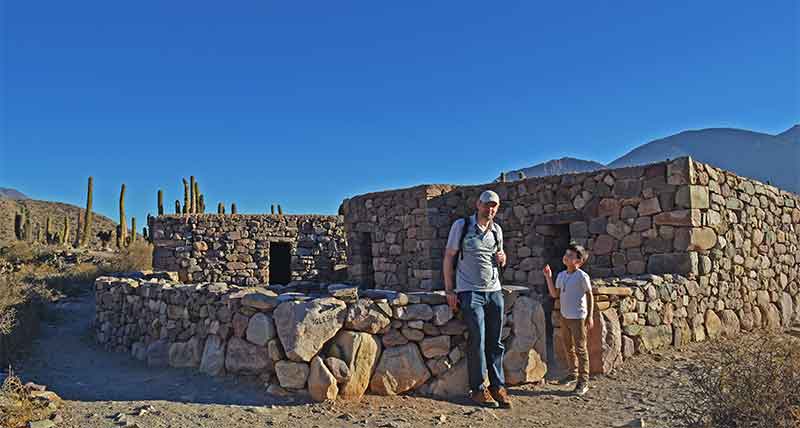 We then took a lunch break in Tilcara. Similarly, as in Purmamarca, Tilcara is quite a small town (with approx. 5,000 inhabitants, twice that of Purmamarca). Our impression was that the selection of restaurants and coffee shops was larger here than in Purmamarca. For lunch, we dropped by an open-air restaurant that serves fresh grilled 'bondiolas' and 'chorizo sausages'. Shops offer a nice selection of local craft beer ;-). It turned out to be a really good decision.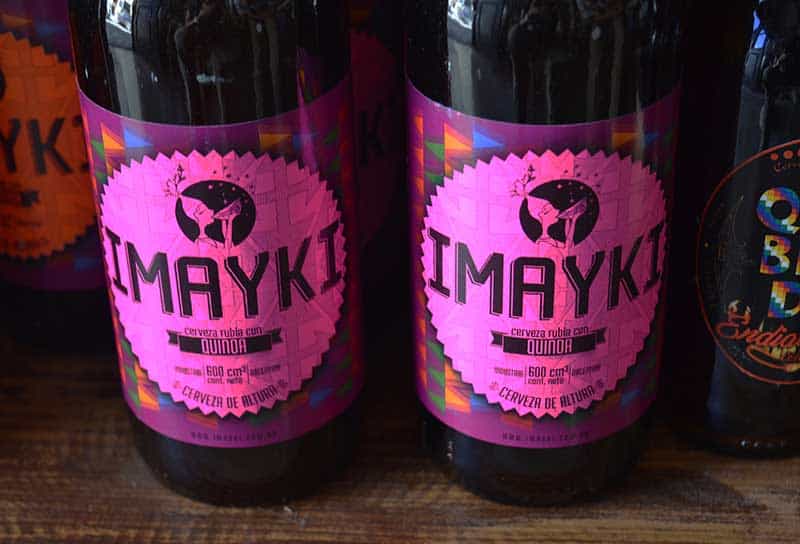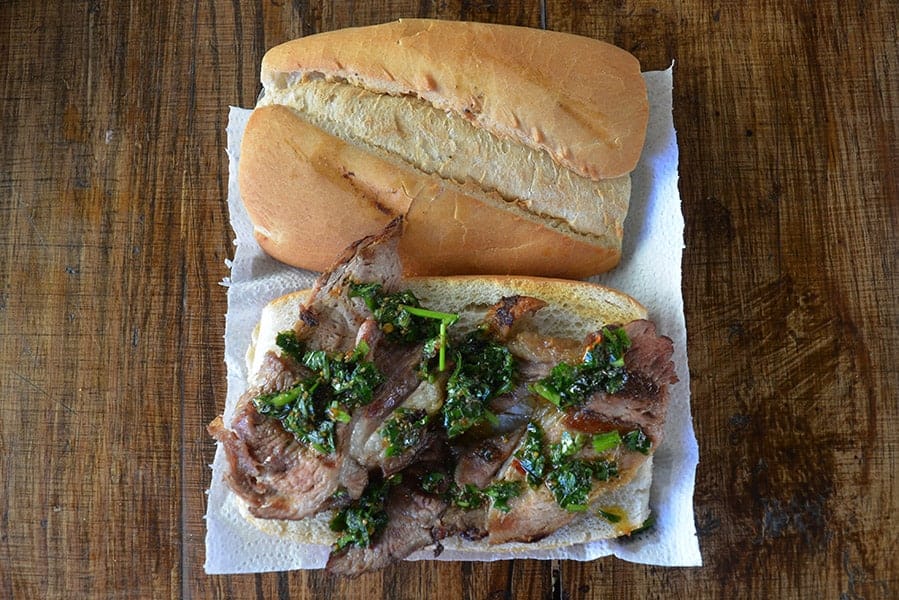 The drive along the 'Ruta 9' brought us from Tilcara to Humahuaca. A little later than expected, we arrived in the little town of Humahuaca, similar to Purmamarca, full of handicrafts stalls.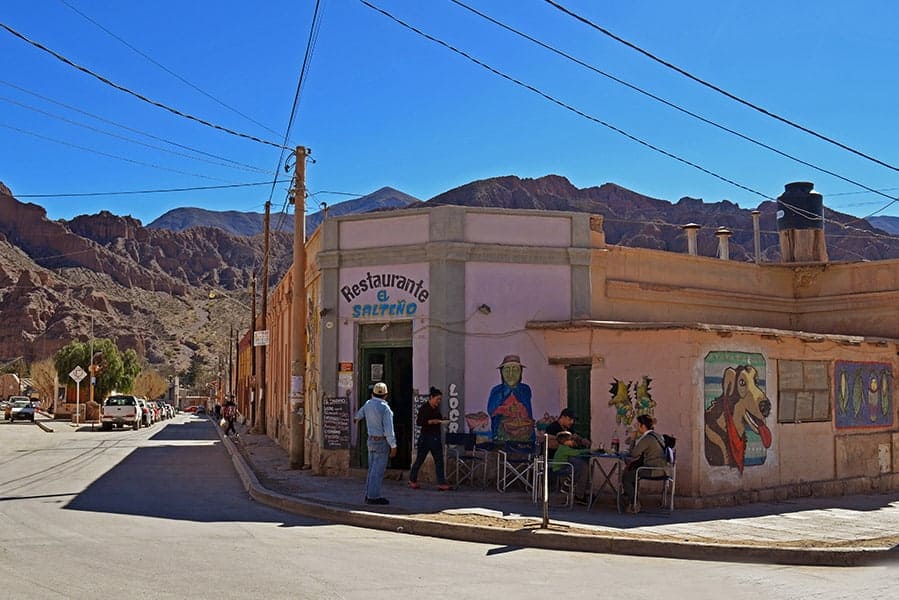 Unfortunately at 16:00, it was too late to make it to the lookout point for the 14-color mountain of 'Serranias de Hornocal' on time. The policeman we spoke to said it is only 25km from Humahuaca, but the dirt road is in bad condition and requires a one-hour journey. Humahuaca lies at 3,000 m but the lookout point at 4,350m which requires some cautious driving.
The aerial view of Serranias de Hornocal, also known you as 'Argentina's Rainbow Mountain', was shot by OiNK (an Argentine project to make technologies for spacial views more accessible).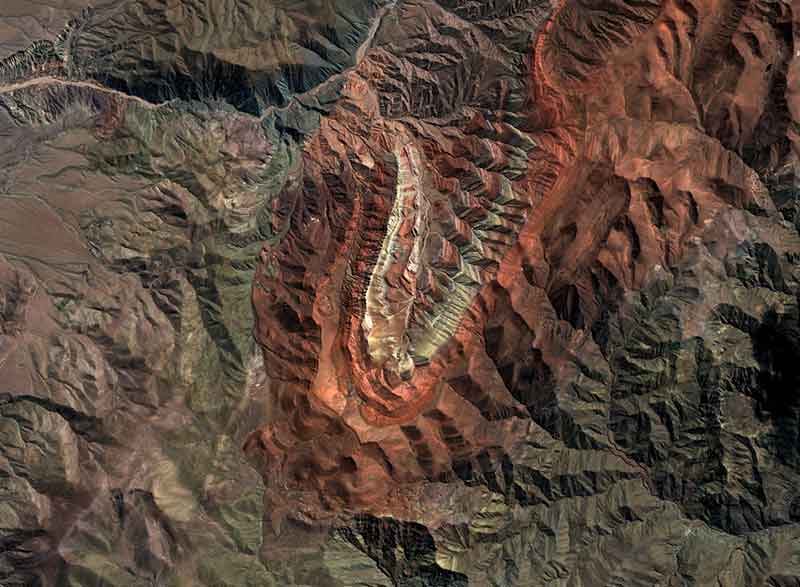 We return to Purmamarca to spend the night. Our tip: Plan an overnight in Tilcara or Humahuaca (instead of Purmamarca) if you want to see the 14-color mountain in Hornocal. You find our map at the end of this blog.
Day 3 Purmamarca - Salta
This was one of the highlights of our trip. The visits planned for today were Salinas Grandes and the Viaduct for the 'Train to the Clouds'. We left Purmamarca early in the morning and traveled along the asphalted 'Ruta 52'. Cuesta del Lipan (Lipan Slope) is a section of steep zig-zags on the Route 52 (as you can see in the picture below). It was not only due to the many zig-zags and the altitude but the colors of the mountains and seeing the immaculate white expanse of 'Salinas Grandes' from the distance that made everything worth the effort.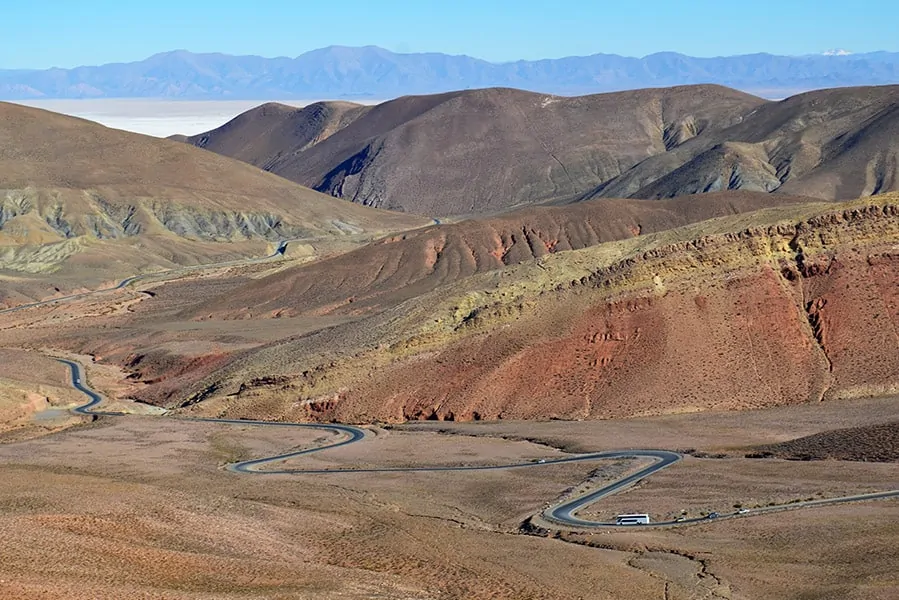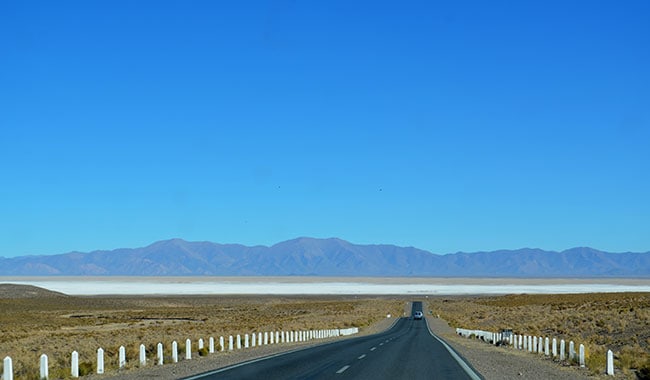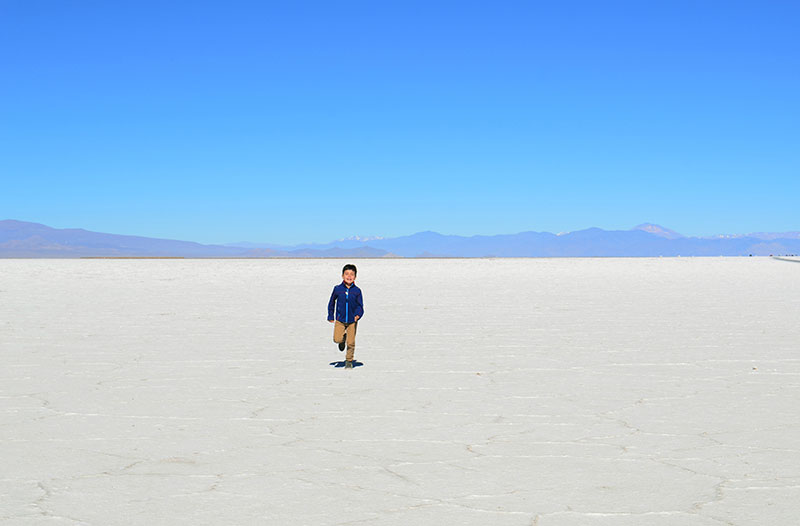 Salinas Grandes is not as big as the Uyuni Salt Flats, but to us it was a quite nice experience to see it without so many visitors. To get to the saltwater pools you need about 45-minute drive and we didn't have time as we wanted to see the so-called 'Train to the Clouds' on the railways of the famous 'Polvorilla Viaduct' (an incredible feat of engineering). So we left for San Antonio de los Cobres. The Salinas Grandes were impressive and we could have stayed longer there especially after we saw vicunas grazing on its shores just as we left (without any car or tourists around), it was simply magic.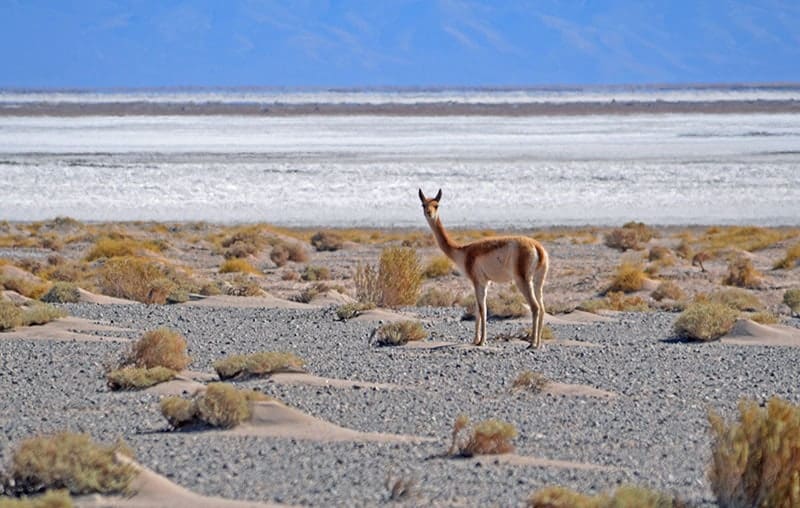 Despite the headache (because of the altitude) and the many curves, we made it on time and could see the 'Train to the Clouds' chugging along the 'La Polvorilla' viaduct. It was a memorable moment.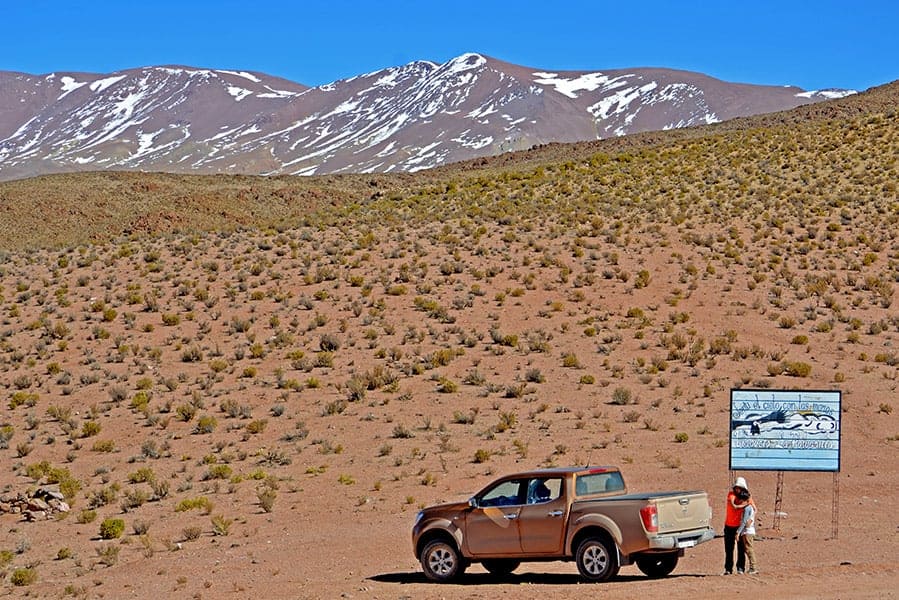 After that, we followed 'Ruta 52' to get back to Salta. The road featuring 'Quebrada del Toro' with mountains revealing strata of reds, purples, ochres and yellows. The whole landscape is spiked with cardon cacti and tiny settlements with adobe houses.
There is no proper restaurant in San Antonio de los Cobres, so you better buy snacks and water the day before you get on this road (in Salinas Grandes there is the chance to sample Alpaca skewers or 'empanadas' should you so wish)
Tonight's accommodation was Finca Valentina, on the outskirts of Salta, a haven of peace and good taste with an airy and intimate atmosphere.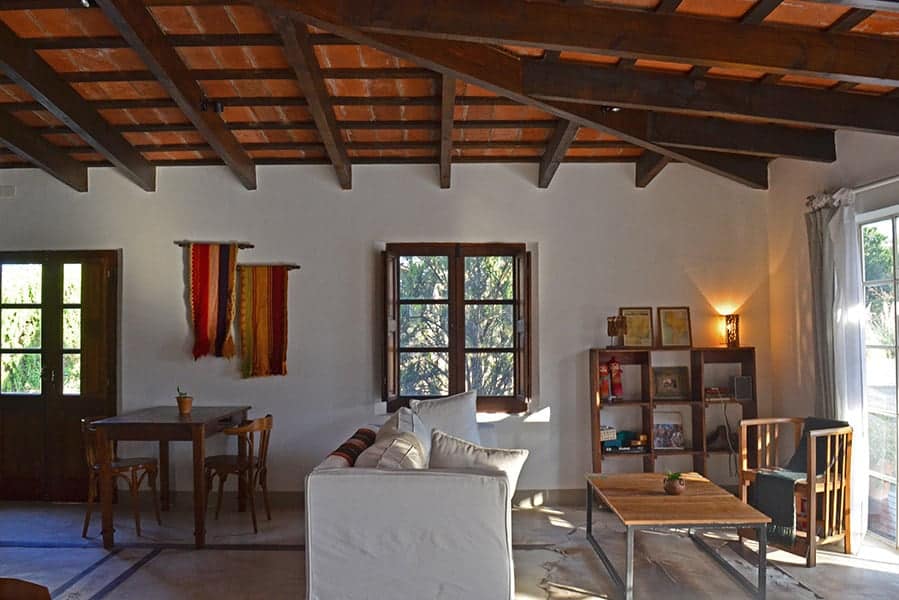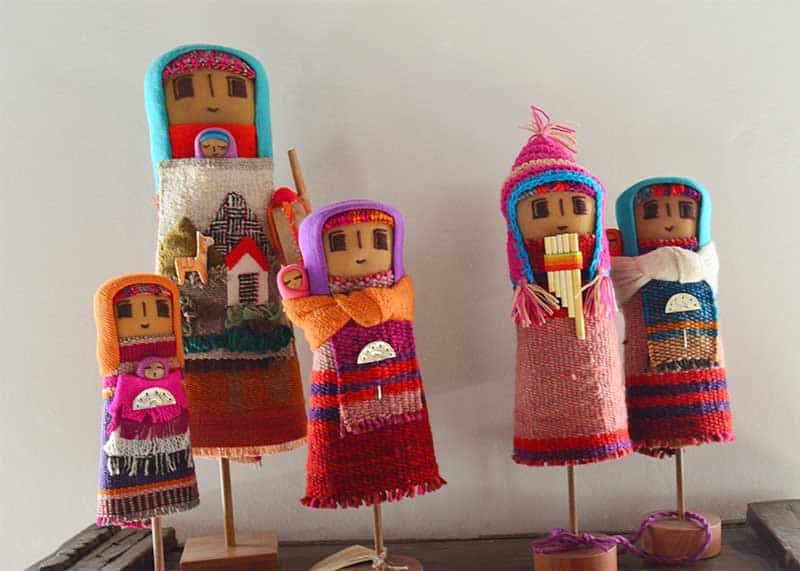 Day 4 Salta - Cafayate
Today's plan was to head south (less altitude and the second most important wine production destination in Argentina) to Cafayate (at 1,683m). We drove along 'Ruta 68' and the Shell's Gorge (or 'Quebrada de las Conchas' in Spanish). The road, in good condition, is wonderful.
The Shell's Gorge is made up of fascinating multi-colored rock formations, this area was once covered by a huge inland sea, ninety million years ago. Carved into weird and wacky shapes by wind, rain, cold and heat, the red, pink, brown and sometimes blue shades are due to varying levels of copper and iron found in the rocks. There are different stops you can make along the way for some great photographs. Places such as the Devil's Throat ('Garganta del Diablo') that you find below), the Obelisk, the Frog or the Amphitheater). We stop at one of the two largest, the Amphitheater.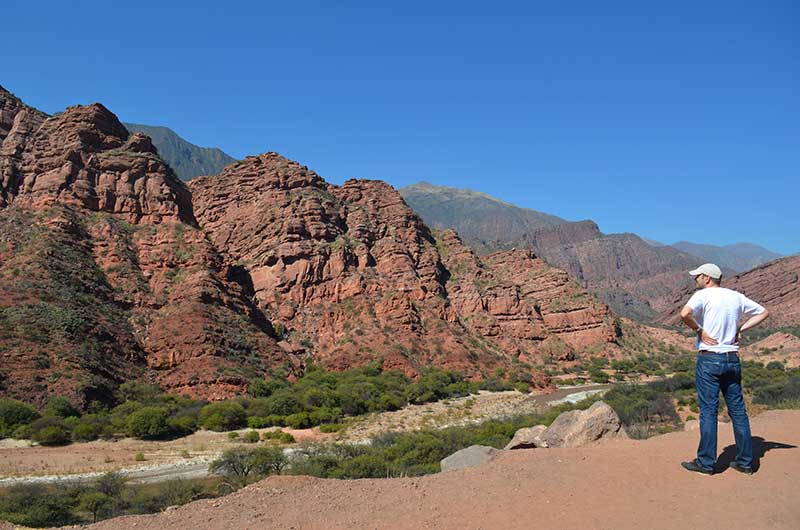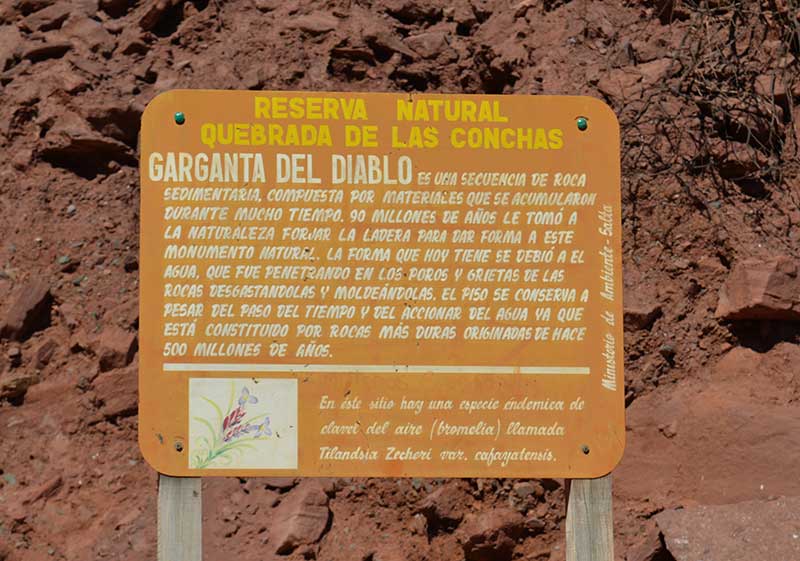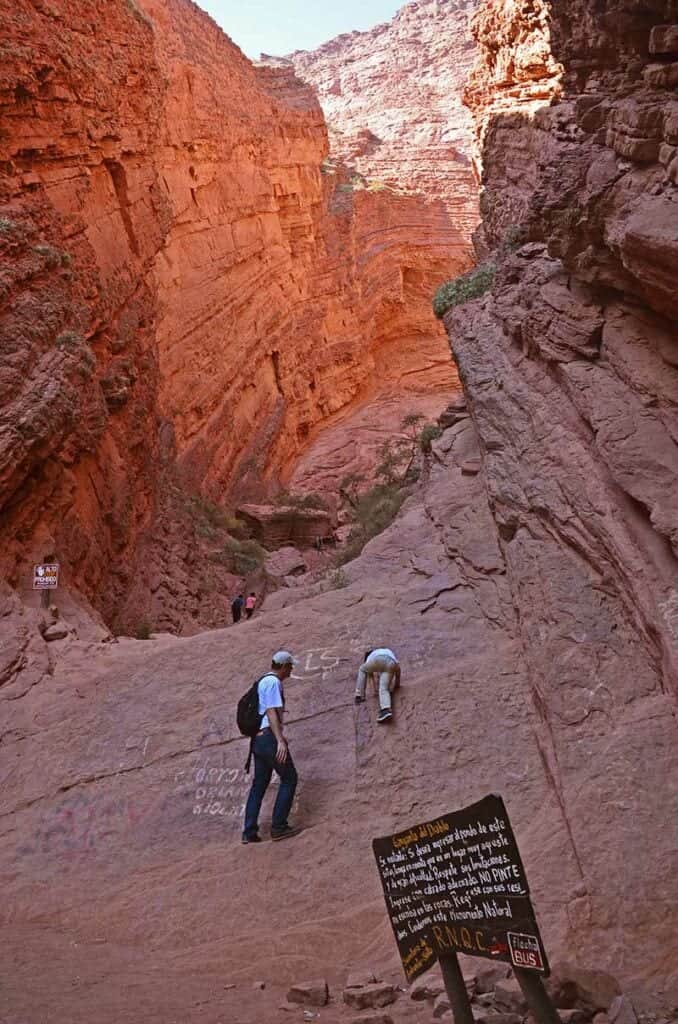 We had a reservation at the Grace Hotel & Spa, one of the best options to stay in Cafayate. This terracotta-colored estancia is set amid vineyards in the Cafayate wine country and has some spectacular scenery overlooking the purple mountains that you can see from your room window. For kids, the pool is a definite treat after the long ride. Golfers would also be interested to know that this hotel has an 18-hole course within the premises and holds a popular golf contest once a year.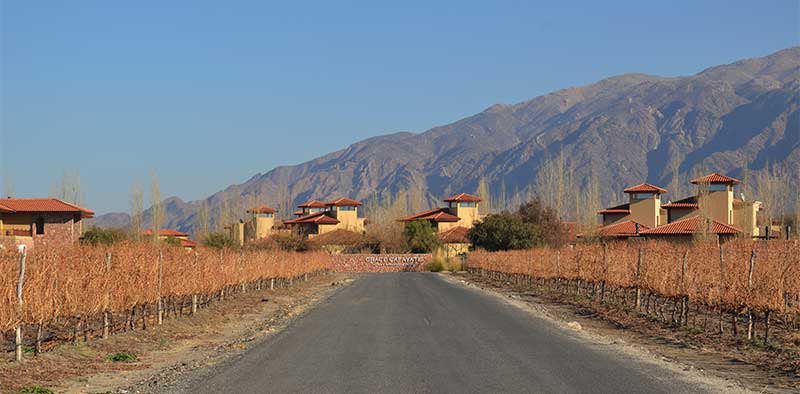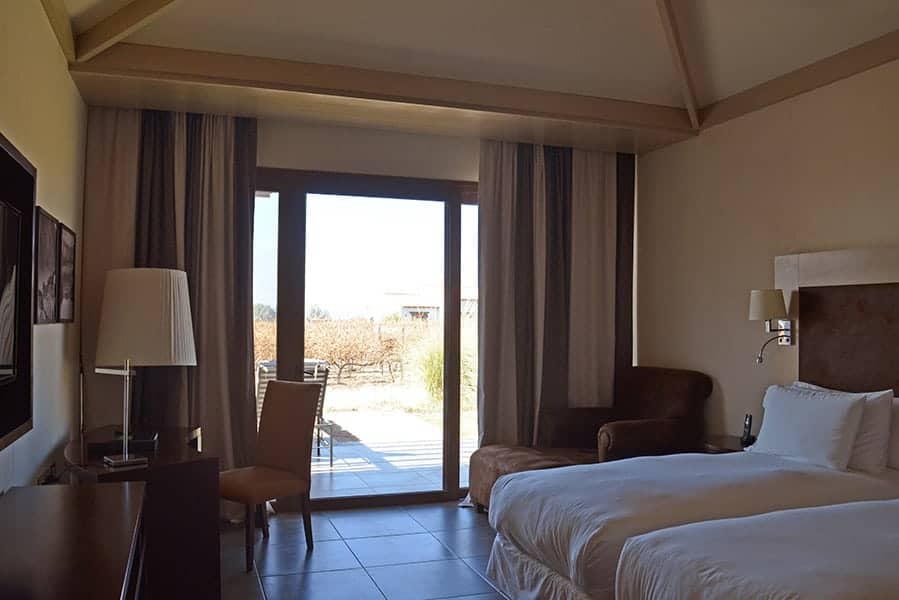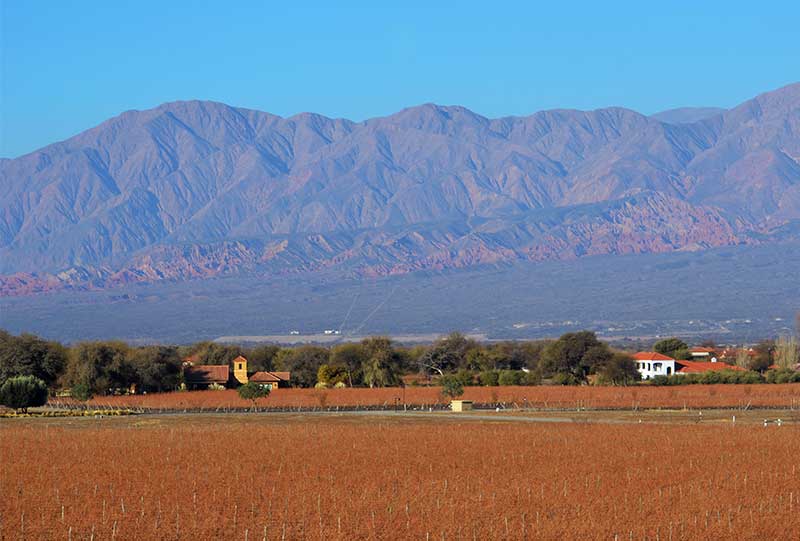 Day 5 Exploring Cafayate
Torrontes is Cafayate's signature wine. Unlike Mendoza, Cafayate is a much smaller town and very easy to navigate, so we explored its center on foot. First, we tried the local wine ice cream and the local beer 'La Burra'.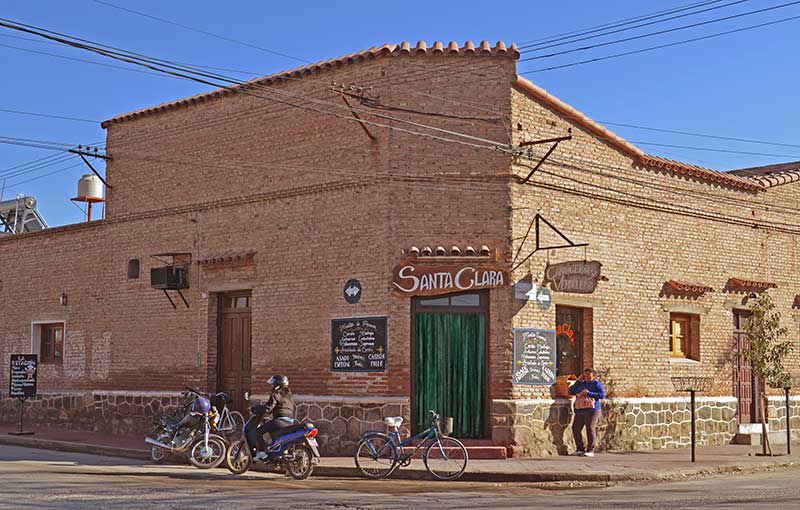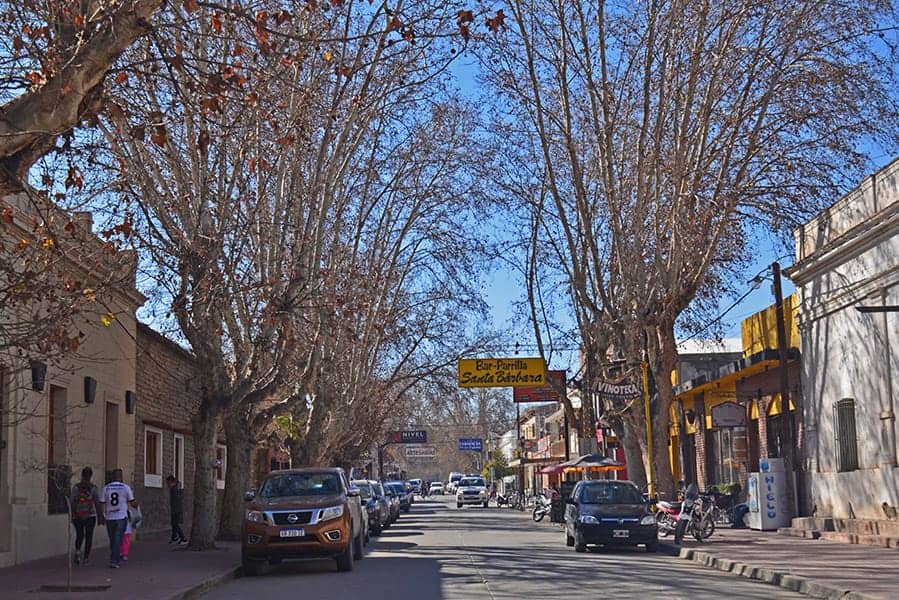 We were recommended a lunch break and wine tasting at Piatelli. Its breathtaking location amongst the vineyards with a mountain backdrop made it a relatively simple yet yummy lunch (lentil's soup). A true experience.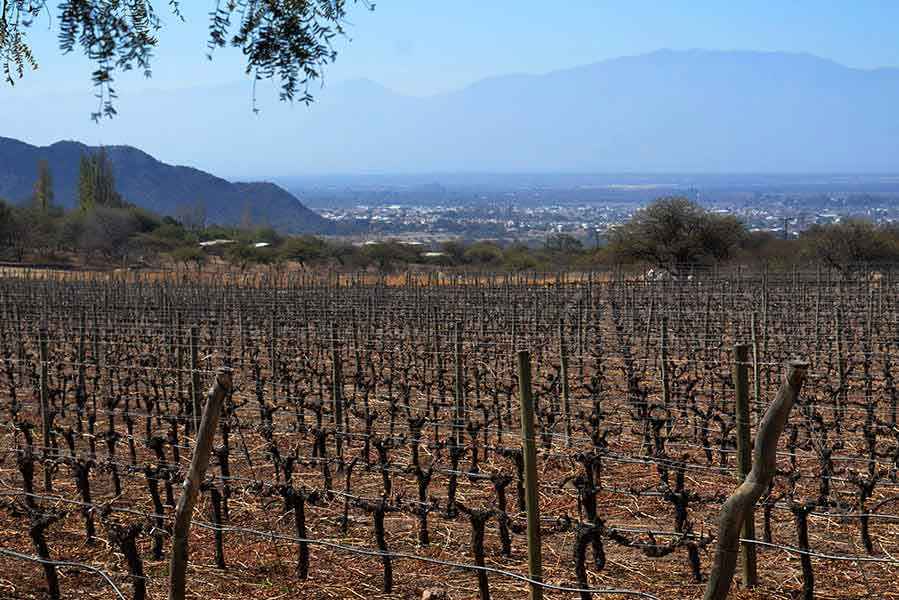 Bodega Nanni (with wines that are organically produced) was a great tip from Hotel Grace (the Nanni family is a pretty renowned family of artists with a passion for winemaking).
We inspected the hotel 'Vinas de Cafayate' and found it to be a charming option if looking for a 3* property. For a more intimate stay, we recommend Patios de Cafayate Wine Hotel (its 32 elegant rooms and suites have superb views of the vineyards of 'El Esteco Winery'). The hotel is set in a fully restored hacienda from 1892 that retains the colonial furnishings, artwork and ceramic floors. Should you only be spending the day in Cafayate, then opt for the lunch on the back patio!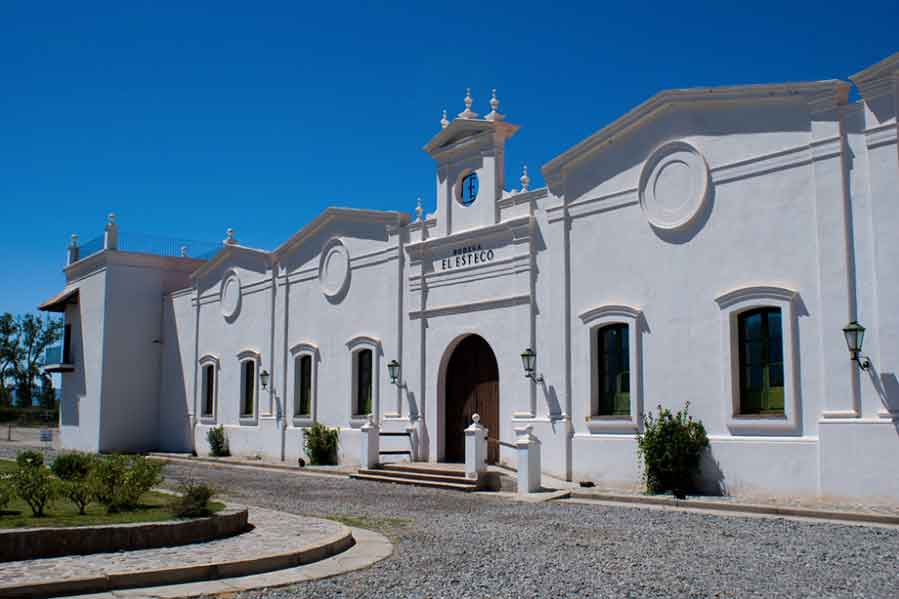 Day 6 Gorge of Arrows, Colome & Cachi
After breakfast, we left north towards Cachi and stopped en-route at Bodega Colome and at 'Quebrada de las Flechas' (Gorge of Arrows) with a surreal scenery on 'Ruta 40'. Massive rocks have been eroded into bizarre shapes along the Calchaqui Valley. Its origins date back to 15-20 million years ago. You simply must stop for some unique photos!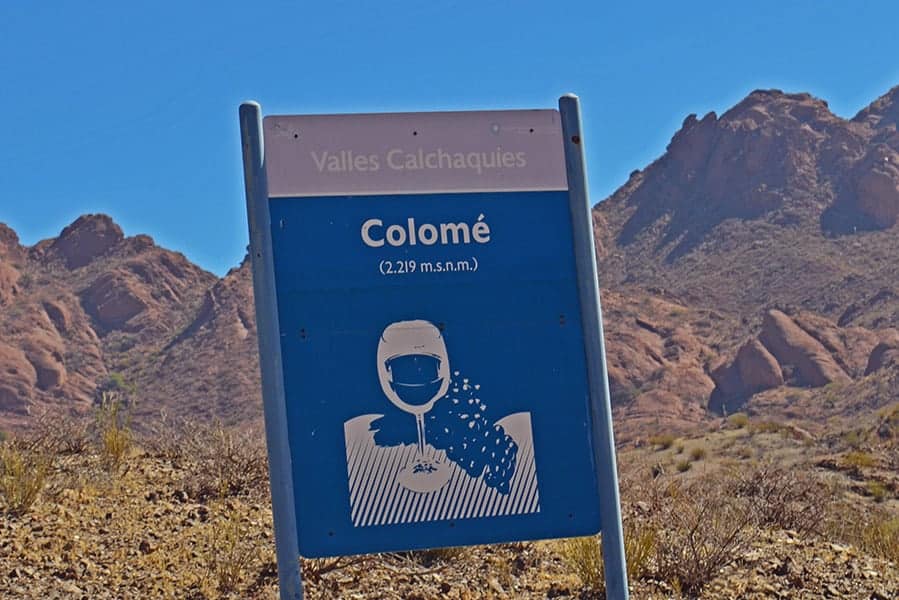 Later, in order to get to Bodega Colome, you will need to take a detour (dirt road). It wasn't easy to find the way once we left Ruta 40, but we made it. Suddenly, in the middle of nowhere, we found an automatic fence (you are not able to enter unless you have previously made a reservation). After a few seconds, the vineyard unfolded in front of our jeep. Founded in 1831, almost at the same time that the first Malbec vines arrived from France, the winery was completely renovated by the Swiss Donald Hess. Along with award-winning wines, Colome stands out for its boutique hotel, and especially for its art museum (which is entirely dedicated to James Turrell's light installations). Reserve your wine tasting and lunch well in advance (and keeps some space in your luggage for a few bottles of 'Altura Maxima').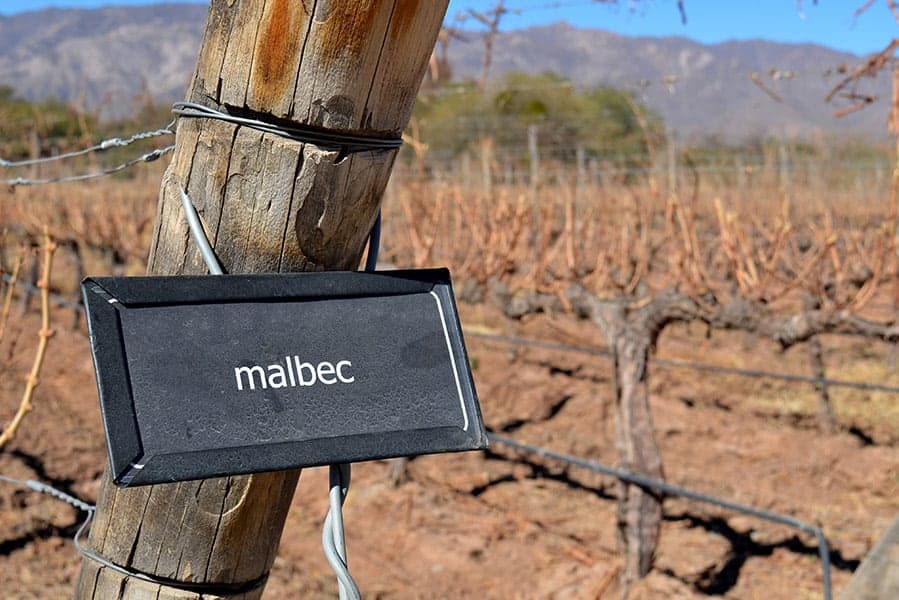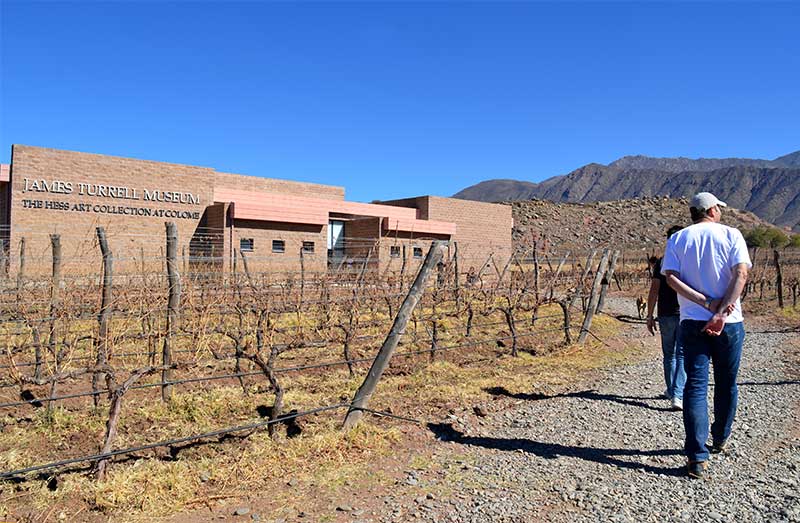 We got a lunch reservation and wine tasting and regret not having spent at least 2 nights here so that we could completely disconnect with the serene peace that reigns in the vineyards. Estancia Colome has an intimate atmosphere with only 9 rooms.
Finally, in the afternoon (and with some more wine bottles from Colome) we arrived in Cachi, just in time to see the snow-capped mountains from the terrace of La Merced del Alto Hotel.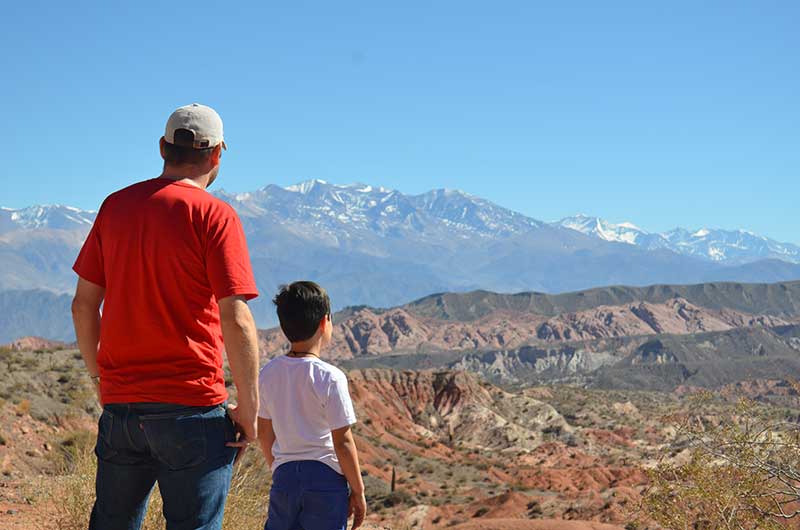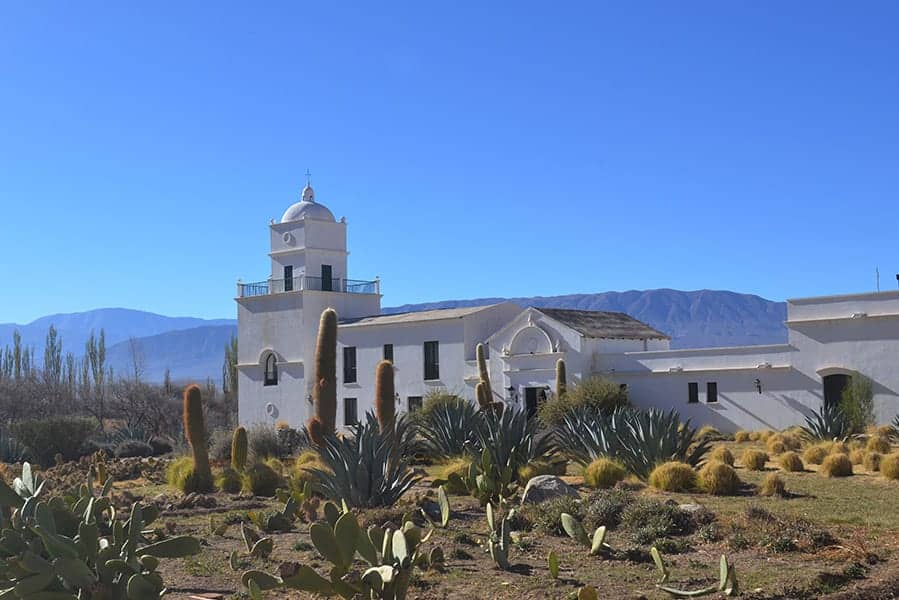 Day 7 Cachi to Salta
Right after breakfast, we visited the church of Cachi which is also known as one of the finest examples of colonial architecture in the region. The adobe church dates back to 1796 and has graceful arches and the confession booths are made out of 'cardon' cacti wood.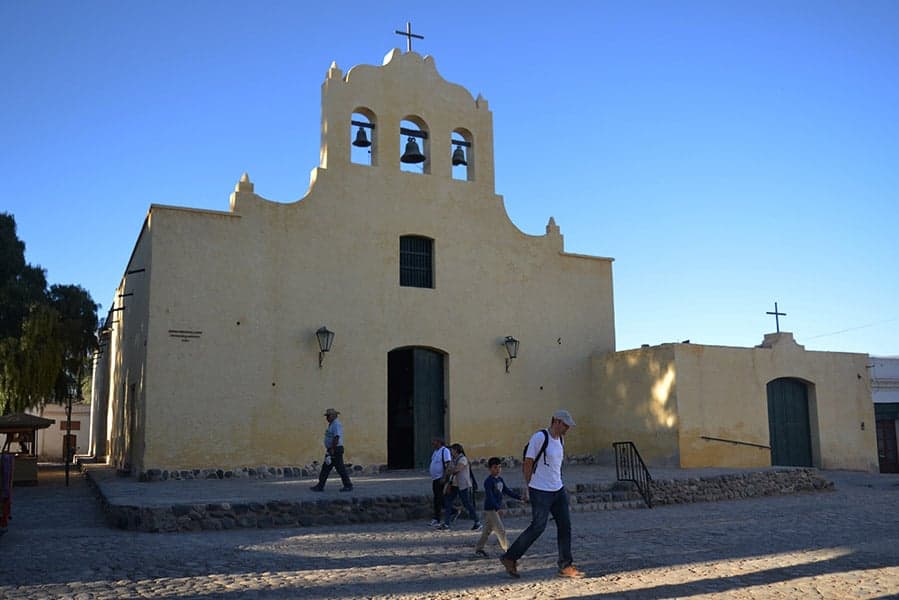 It was time to say goodbye to Northwest Argentina and we drove back to Salta to catch our flight to Buenos Aires. We did a detour to see the giant cacti at the Cardones National Park.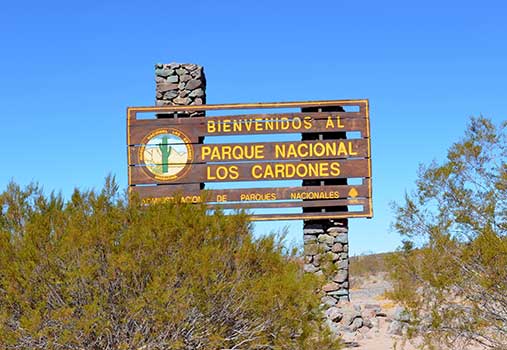 Take the time to make a stop at the lookout point and take some shots of 'Cuesta del Obispo'. This is the name given to a zigzag and climbing section of the 'Ruta 33'. With a length of 20 km, it quickly descends from 3,340m to 1,270m.