If I could relive any travel experience, I have had, it would have to be my trip to the Peruvian Amazon Rainforest, a magical place home to a variety of amazing wildlife.
To offer you a glimpse into the wonders that await you in this remarkable region of South America, I have compiled a list of the top 10 captivating jungle animals you can encounter in the enchanting Peruvian Amazon. Additionally, I will offer valuable tips to ensure you are well-prepared for your thrilling Amazon adventure.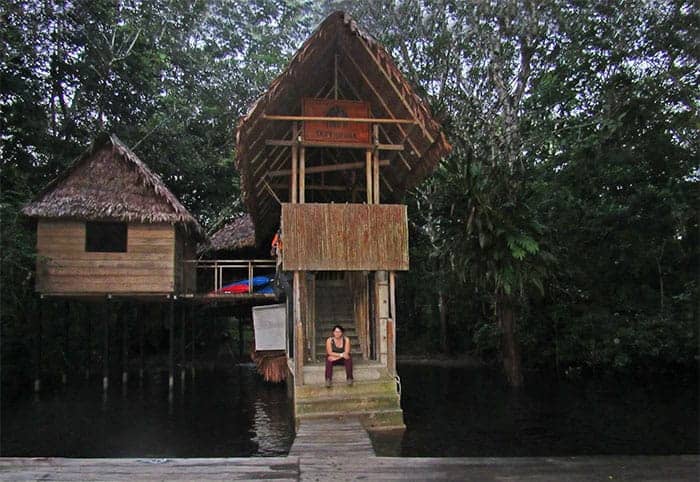 Peru has two Amazon rainforest destinations that can be reached by air, Iquitos and Puerto Maldonado. I had the opportunity to visit the Loreto Region, near the city of Iquitos, and will therefore share what I know about Peru's Northern Amazon.
How to get there
In Peru's Northern Amazon, a variety of lodges and cruises await explorers. For a concise three-day Amazon experience, lodges near Iquitos city along the Amazonas River provide an accessible option.
For travelers with 4+ days in the Amazon, our top pick is the Pacaya Samiria National Reserve, located to the south of Iquitos. Nestled between the Marañón and Ucayali rivers, this sanctuary boasts remarkable biodiversity: 527 bird species, 102 mammals, 69 reptiles, 58 amphibians, 269 fish types, and 1024 plant species
To begin any adventure to Pacaya Samiria Reserve, it is necessary to fly to Iquitos airport.
There are daily flights Iquitos - Lima (1 hour and 50 minutes)
From Iquitos airport, you will need to be transferred by land transport either to Nauta or to one of the main ports to head deeper into the jungle by riverboat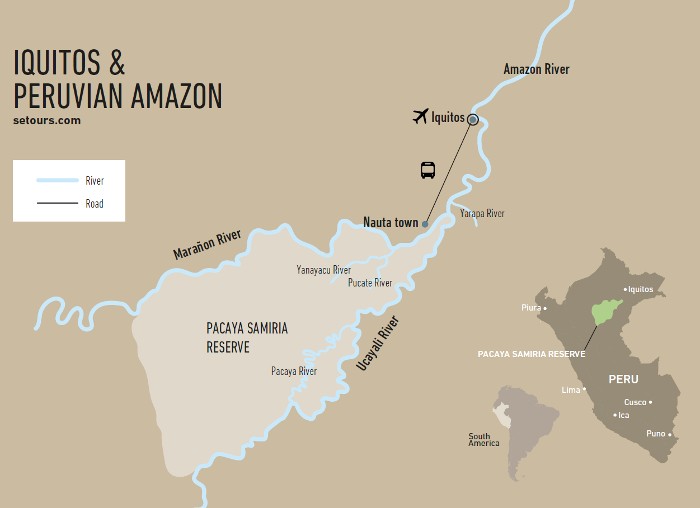 Which jungle animals you can spot
Regardless of where you decide to stay, we can say from our own experience that you will be able to spot the following ten amazing jungle animals:
Pink or grey dolphin
Piranha
Sloth
Toucan (different species)
Turtles (Taricaya)
Howler monkeys
Peruvian night monkeys
Different species of frogs
Caiman
Amphibians & insects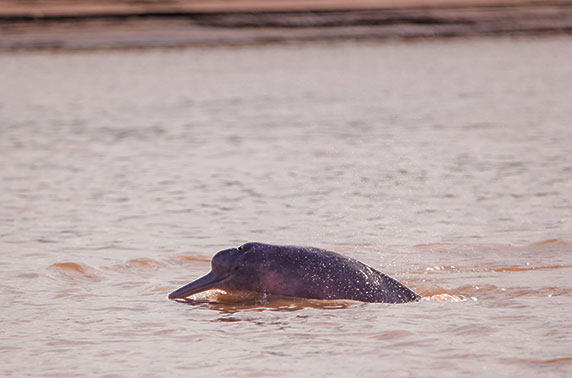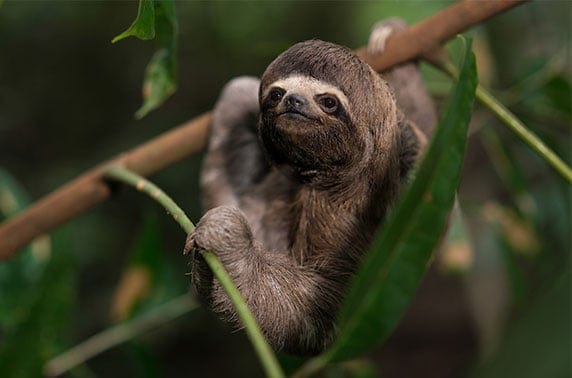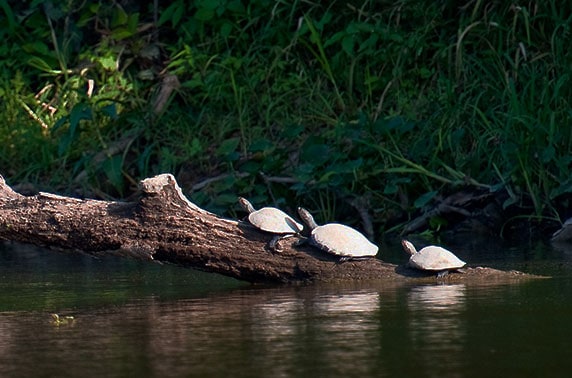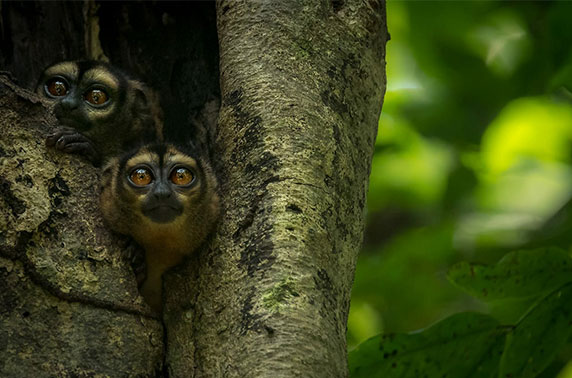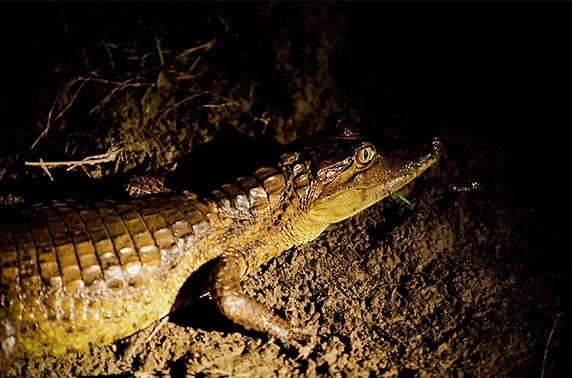 Where to stay
Before choosing the perfect lodge or cruise for you, it is helpful to remember that the more remote the lodge or the places visited, the larger the odds to see some spectacular jungle animals. However, do keep in mind that all sightings depend on the animals and are not manipulated! All species are well protected and are completely free to show themselves to us if they want to. Based on our personal experiences and inspection trips here at Setours, we would recommend the Treehouse Lodge or the Delfin III for the best animal sightings. Both of these options include the highlight of the Pacaya Samira National Reserve and offer a range of packages for different types of budgets.
The Treehouse Lodge
The package at the Treehouse Lodge includes return transfers from Iquitos, full board including purified water and juices, and a wide range of excursions to choose from. What makes the Treehouse Lodge so unique is that guests get to spend the night in a bungalow, set high up in the trees. The bungalows are made of wood and feature electrical plugs, mosquito nets, ceiling fans, and a private bathroom with a cool shower (perfect for cooling down after a hot day in the Amazon).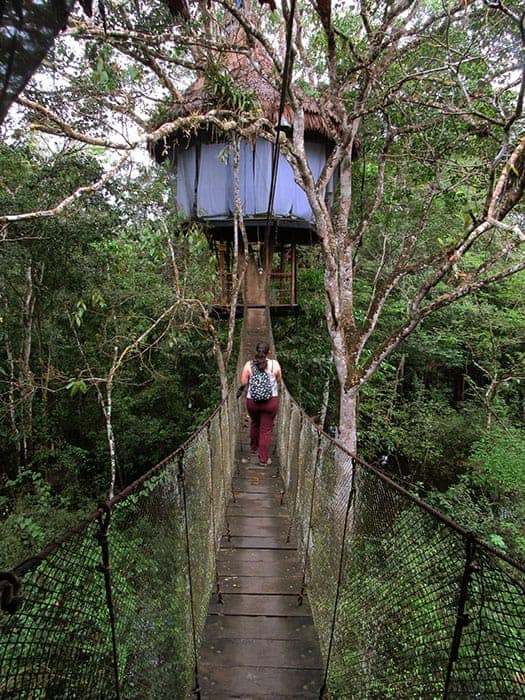 Staying at the Treehouse Lodge, felt like a childhood dream come true for me! Canopying all over the property to get to my own treehouse was such an adventure and the special lookout tower offers amazing views of the surrounding rainforest. Located at the confluence of Yarapa and Cumaceba Rivers near the Pacaya Samiria National Reserve, 3 hours from Iquitos, it is the only lodge of its kind in the Peruvian Amazon. It is the perfect choice for those who would like to get up close and personal with nature.
Some activities the Treehouse Lodge offers:
Watching the sunrise while enjoying breakfast with the dolphins
Swimming in the Amazon River
Fishing for piranhas
Nighttime caiman spotting
The Delfin III
If you are looking for a more luxurious option, the Delfin III would be the journey for you! This ship takes local shapes, colors, and flavors and turns them into one of the best onboard services and experiences of all time.
Part of the Relais & Châteaux group, Delfin is known for their exquisite cuisine, combining exotic flavors with fresh and local ingredients from the Amazon. Aboard Delfin, you will spend the night in a cozy suite, fully equipped with air conditioning, private bathrooms, spacious private terraces, and floor-to-ceiling windows for stunning views of the passing scenery. Take a look at the Delfin III features and facilities here. Delfin also boasts a beautiful indoor and outdoor lounge area, a sundeck with a plunge pool, a spa and gym, and of course a bar. The cruise glides throughout the Pacaya-Samiria National Reserve.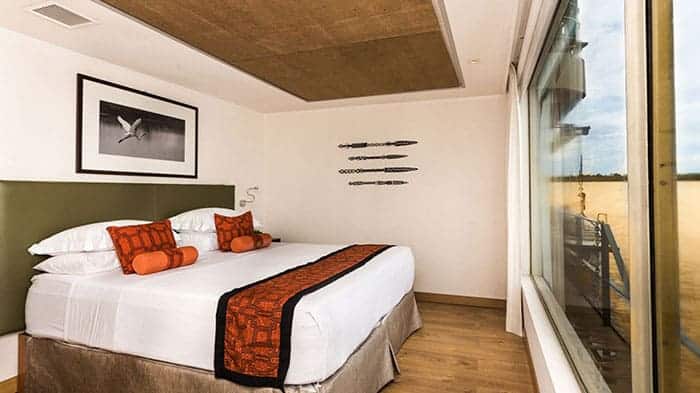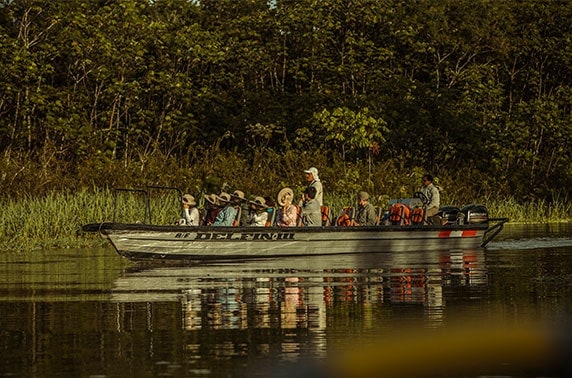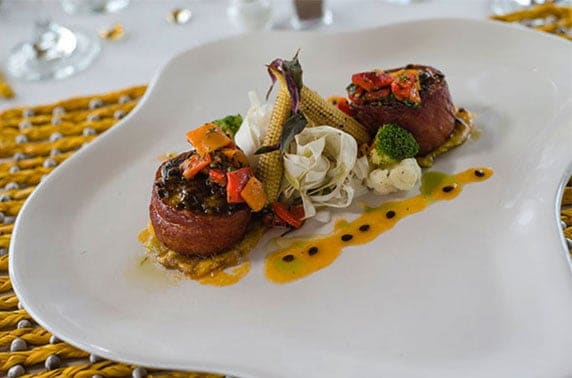 The cruise package also includes return transfers from Iquitos (approximately 1 hour and 30 minutes), full board including juices, sodas, selected cocktails, and local wines for wine pairings, as well as an extensive itinerary of amazing experiences cruising through the Amazon Rainforest.
Some excursions offered on the Delfin III:
Jungle walks
Birdwatching
Kayaking & SUP (Stand-Up paddle)
Piranha fishing
Nighttime caiman spotting
Community visits
Rescue & Rehabilitation Center of River Mammals visit to learn about manatees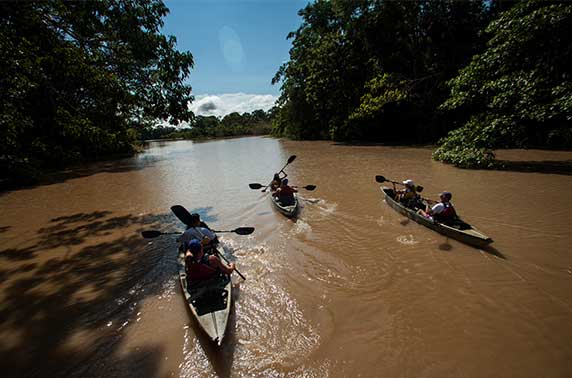 When to stay
The Peruvian Amazon can be visited year-round. When planning your trip, you should consider which type of Amazon experience you would like to have.
The high-water season is from December to May. During this time, more waterways are navigable by canoe for wildlife viewing. Although there will be more rain and the temperature will be slightly cooler, there is not a big difference to the low-water season (only 10% more rain). There might be more mosquitos, however, mosquitos can be found year-round in this part of the world. During the high-water season, the rainforest is at its lushest, and more pink dolphins can be found. However, much like the mosquitos, the pink dolphins can still be spotted year-round.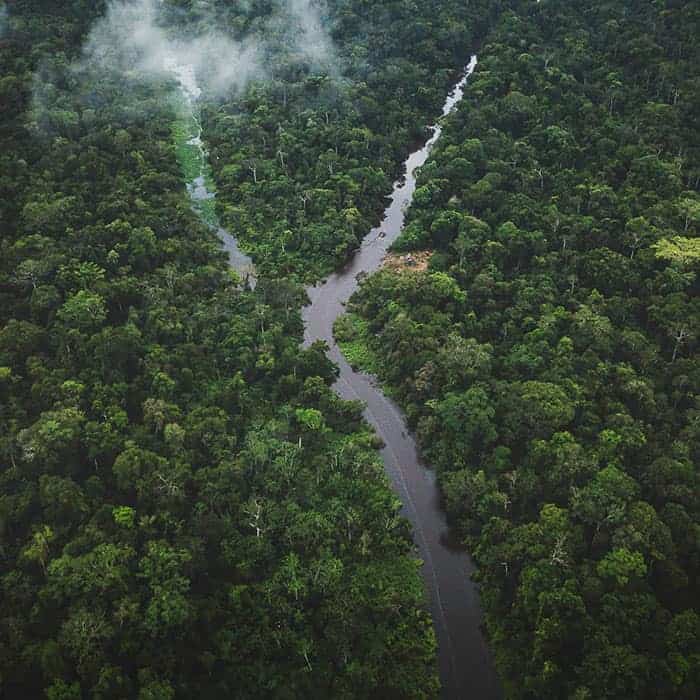 The low-water season is from June to November. More jungle paths are exposed so more areas of the jungle can be explored on foot.
To sum up, if you would like to get close-up looks of birds and mammals while enjoying a slightly cooler temperature, then the high-water season might be for you. However, if you would like to enjoy more hikes and spot exotic birds perched on trees, while still seeing other mammals in a slightly warmer temperature then go for the low-water season. Either way, you will have the chance to explore the beautiful rainforest while seeing spectacular jungle animals. My tip? Experience both and visit the Amazon in the low and high-water seasons!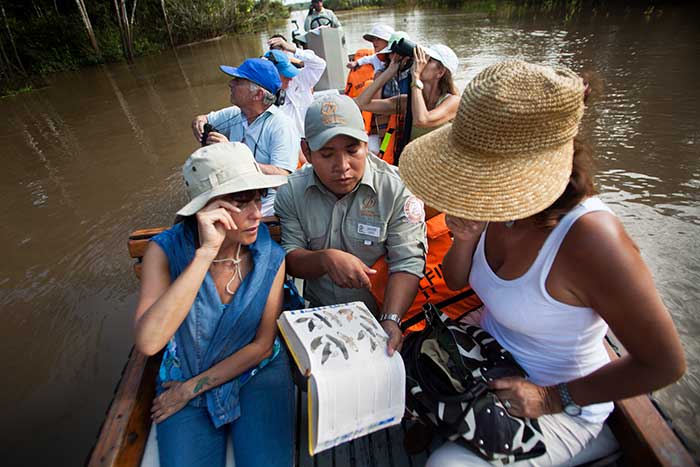 How long to stay
The Peruvian Amazon is a magical place, so I would recommend staying at least 3 nights to see as much of the area as you can.
How to get the best photos
Considering that visiting this unique part of the world is a once-in-a-lifetime experience for most people, it's a good idea to capture a few photos. I would recommend packing a good camera with a suitable camera lens for capturing wildlife.
Packing a pair of binoculars will help you spot jungle animals from afar. In case you are new to photography, I would suggest taking a short, basic online photography course before arrival to learn some new tips and tricks. The guides at the lodge you choose to stay at will also be able to help you to get the best photos.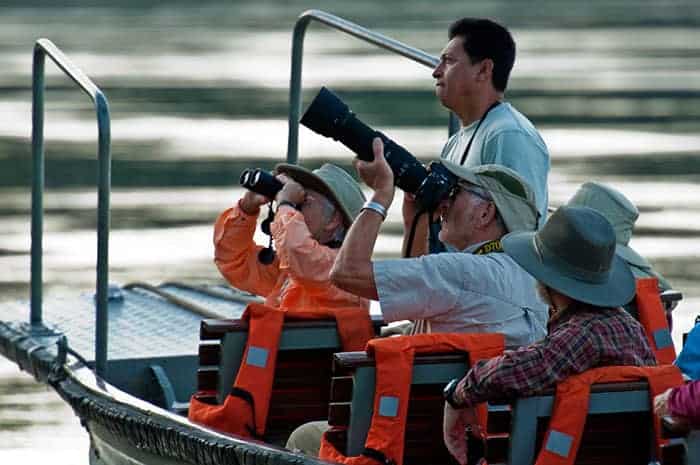 What to pack
Layering clothing suitable for any kind of climate (some excursions may start at dawn)
Long-sleeved shirts and long pants to fend off any mosquito bites, especially as you go deeper into the jungle
Comfortable shoes to walk around the Delfin (or sandals for the Treehouse Lodge bungalows)
A hat, sunscreen and sunglasses
Mosquito repellent with DEET (diethyl-metatoluamide)
Bathing suit
Some small gifts to give to the locals (paper and pens, sweets, clothing)
Both Treehouse Lodge and Delfin III offer rubber boots for wetland excursions (you only need to provide your shoe size in advance). They also offer waterproof ponchos.
Personal toiletries
Personal medications (aspirin, etc.)
Binoculars
A camera as well as extra batteries for all your devices
Your own water bottle for refills
Cash (there are no ATMs available)
Make sure to bring a waterproof backpack or a waterproof bag
Amazonian Sounds
Looking forward to planning your next adventure already? We're sharing a playlist with music from Peruvian jungle bands or inspired by it.
Vaccinations and Medications
To obtain the most up-to-date information on required vaccinations for your travel to Peru, please check the dedicated section 'Immunizations' on our 'Travel Advice for Peru'. This section will provide you recommendations regarding the vaccinations necessary for a safe and healthy trip.